If you are blessed with thick hair, then you make many other women envious.There are lots of options available while looking for Short Hairstyles for Thick Hair. However, the problem such ladies may face is quite an extra styling time and an excessive bulk of the hair to carry and manage. They often want to make their hair look more weightless.
Thick hair causes maintenance and styling difficulties. However, by opting a right kind of haircut, you can take control of your locks and get an amazing base for unique and versatile hairstyles.
That's what I am going to present here below! There are 23 stunning hairstyles/haircuts that can make you look more glamorous and stylish.
23 Superb Short Haircuts for Thick Hair to Look Stylish
Have a look at these mind blowing Short Hairstyles for Thick Hair and decide which one goes best with your personality!
1.      Subtle Wavy Ombre along with Side Swept Bang:
For an alluring and sultry appearance, one of the best ways to turn is to get a messy haircut. These flirty and messy hairstyles look totally enticing such as subtle wavy ombre along with side wept bang.
A beautiful ombre coloring, features a brown hue on the top of the crown while leading to some lighter blonde shades towards the end. Further, the addition of a subtle kind of waves adds a life to these colors wonderfully.
And finally, a side swept bang gives a touch of gorgeous and ever trendy everyday hairstyle. This is a perfect match if you are looking for Short Hairstyles for Thick Wavy Hair.
2.      Messy Voluminous Curls Short Hairstyles for Thick Hair:
Do you love to carry your natural curls? Then get a look at this gorgeous messy voluminous curly hairstyle for thick hair. The natural loose curls are defined using a large barrel curling iron, which look absolutely gorgeous.
These downright and seductive curls take an alluring makeover when tousled up for a Bedhead finish. Add some blonde hue to get a perfect style for a beach tour in summer.
3.      Graduated Thick Bob with Waves:
Graduated bob with the waves is one of the most adorable Short Haircuts for Thick Hair. Some extra waves give a burst of alluring and youthful life to perfectly graduated bob. The bangs surrounding your face look absolutely feminine and dainty.
To get an effortless amazing look, you can try this style for your next makeover.
4.      Multi Textured Bright Thick Ombre Haircut:
Do you have a black skin and looking for some Short Hairstyles for Thick Hair to brighten your complexion? Then you will find a fruitful solution out there!
This haircut has a jet black color on the top while a blonde coloring in the lower half. This unique and bright color combination lightens the skin tone beautifully. Furthermore, extra large curls on one side look glamorous while on the other side crazy ringlets are incorporated to create a wild and messy look.
5.      Small, Thick Tousled Curls – Short Hairstyles for Thick Hair:
Are you searching for some calm, adorable, and cool Short Hairstyles for Thick Hair to rock this summer? Then, why don't you try this small tousled curls style to get the desired image.
Small curls throughout the crown are enough to add a lot of dainty attitude. Brown highlights can be added in the lower half of the curls to brighten the complexion and give you a gorgeous and youthful makeover.
6.      Blue Tousled Thick and Short Bob:
This artsy and edgy haircut will make sure you get attention from the whole audience. A short bob more like a pixie style with a number of layers of all sizes and shapes is able to create a complete funky image.
These layers give a free and a bouncy finish to your hair, whereas a shocking blue color creates a trendy and intense texture. This look goes well for the ladies who are working in the fashion industry or in some other creative environment.
As it provides an extra edge, so this goes very well if you are finding Short Hairstyles for Thick Hair and Oval Face.
7.      Messy, Thick Ringlet with Highlights: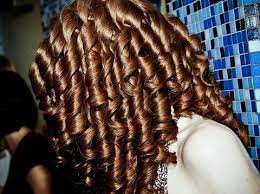 A very soft image can be created with this messy and thick ringlet with highlight style. Instead of an over the top and rigid look, this haircut leaves a bouncy and comfortable feel. These adorable ringlets are so feminine and fashionable in a messy way.
This is such a perfect look for any kind of occasion. Hence, this is one of the most feminine and softest Short Hairstyles for Thick Hair.
8.      Silver Thick Bob with One Sided Fringe:
This stunning silver bob with one sided fringe is absolutely chic and contemporary. This incredible hairstyle is relatively a long bob which touches the chin length. To create this amazing shape, ask your stylist to keep the layers shorter at the back side.
Then, add longer one sided fringe and a smooth tousle to the top layers. This is one of most graceful silver Short Haircuts for Thick Hair.
9.      Pixie Cut with an Undercut Short Hairstyle for Thick Hair:
Trying out this hairstyle on your thick hair will give you a stunning, edgy and cool look which is perfect for this summer. Create a cute cropped bob by shaving the bottom side of hair close to the head and leave the upper side a little longer.
Ask your attendant at the salon to cut a wonderful fringe across the crown of your hair. To show off the style, keep the front hair straight and dye hair from the back side using some dark color.
10. Two Layered Purple Bob with Thick Curls:
Purple is an amazing color which is summery and bright, just perfect for your next makeover. Create an amazing two layered bob style that never fades with time. Keep lots of gradually cut layers on the top of the head and shave the bottom side close to the forehead.
Also, keep the hair shorter at the back while longer towards the front. To further get a finished look, add a bright purple dye with lots of ringlets. This is one of the best Short Hairstyles for Thick hair to brighten up this summer.
11. Loosely Tousled Bob Hairstyle for Thick Hair:
Bobs have always remained in fashion for the gorgeous and effortless look they impart. Get this loosely tousled bob hairstyle by chopping your thick hair till the jaw line. Swipe the hair to one side and keep the layers longer in length.
You can keep your natural color of hair at the root side and use a blonde color towards the bottom to create an ombre blend. Finish the style by incorporating loose waves and you are ready to rock on the floor.
12. Cropped and Curved Bob for Thick Hair:
This short round bob gives a gorgeous and incredibly curved image. This look can be created by cutting the bob that comes around the ear length. To lessen the volume build up of your thick hair, shave the bottom of your head while keeping the top layers perfectly straight and sleek.
The end result will be this gorgeous rounded and curved bob.
13. Double Layered and Double Toned Brown Short Bob:
This haircut is one of the most fashionable Short Hairstyles for Thick Hair, which is a right choice to make a unique style statement for you. Two toned, small Bobs are currently a new fashionable style to take the scene by storm.
Get a classic pixie haircut and dye the lower side of the hair with a dark brown shade. Keep the top layer of head a little longer so that it falls like a fringe. To get a perfect contrast effect, keep these long layers in a light brown shade.
14. Asymmetrical White Thick Bob:
Silver hair has taken the style scene by a storm these days. Asymmetrical style is one of the most stunning Short Haircuts for Thick Hair to opt this season, which is longer on one side than the other. To further pronounce the effect, add a sweeping, long fringe on one side.
By adding white metallic color, you can take this look to entirely a next level.
15. White Shaggy Bob for Super Thick Hair:
Slightly longer bob cuts are equally stylish and gorgeous as the short length bobs. In this white shaggy bob cut, a little longer length is selected, going till the jaw line. The addition of an amazing white blonde color makes this thick bob a little bouncy and light in weight.
To further polish the look, add some loose waves and a tousled effect. For a day to a night event, this one of the most stylish Short Hairstyles for Thick hair is just perfect.
16. Naturally Kinky Short Haircut for Thick Hair:
If you have naturally thick and kinky hair, then try out this runway model look to make a strong style statement. To get this image, shave your hair along the sides around the head. Then, brush your hair towards the top from the roots. Higher the top length of the hair, higher will be the swag.
17. An Elegant Smooth Bob:
An elegant, smooth bob is a conventional haircut that is still rocking the style charts. This short bob looks adorable on straight and sleek hair. Instead of choosing bang, try feathering layers on the front side. This haircut has lots of movement and texture to impart.
To keep the haircut sophisticated and classy, lower length is kept same in all directions.
18. Angled Short Bob for Thick Hair:
This style takes all the excessive volume of your hair and turns your style statement into a perfectly rounded cut with angled layers. It creates a gorgeous and modern look. Whereas, the short length keeps the styling easy and fun.
19. Neat Layered Short Bob:
This old style is again new in this era. 90's inspired bob haircut is super easy to wear and style if you are blessed with thick hair naturally. Neatly layered and simple in attire, this one is of the easiest Short Hairstyles for Thick Hair that eliminates the need of styling stress in the morning.
Simple but this haircut is all set to give you a stylish hairdo.
20. Razored Pixie with Irregular Layers:
The layers become essential when you want structure and texture in the bob styled thick hair. In a razored pixie, irregular layers bring a flirty and chic look. If you have naturally wavy or curly hair, this will further add movement.
21. Medium to Short Feminine Layered Cut for Thick Hair:
A medium to a short layered cut for thick hair gives a perfect feminine look to women of all ages from young to older. This style is easily adaptable to all types of face shapes. Even the whole wardrobe will go along with this hairdo perfectly.
22. Stacked Balayage Bob for Thick Hair:
Copper balayage is able to bring lots of personality and charm to you. Whatever are the haircut details, pair it with copper coloring bob and there you bang!
This combination will not allow any attention to miss whenever you make an entrance. It requires a little more maintenance to keep the ends perfectly trimmed. But the final result is worth time taking.
23. Boyish Pixie Thick Haircut:
Boyish and masculine haircuts are seen constantly, but nowadays they have gained much importance due to increased interest to get unisex style statements. If you want one of the lower maintenance and lesser time taking Short Hairstyles for Thick hair, then take a keen look at this one.
Conclusion:
So, you have decided to make a big crop for luxurious and alluring long hair? Most women will not understand you, but luckily we do. Short Hairstyles for Thick Hair look much elegant and sharper than the long haircuts. They always give you a perfectly effortless look in no time.
From pixie to bob, there are a number of sassy and chic haircut options while styling thick short hair. Addition of artistic, fun and funky, elegant, and stylish color blend further polish the final look. Hairstyles for wavy, kinky, straight, and curly hair are mentioned above.
You can choose any cut from the above mentioned Short Hairstyles for Thick Hair and get a salon appointment for next makeover.you can also find short hairstyles for girls here