Best hair dye brands
Best Hair Dye Brands to Use at Home The professional colorists know the advantage and disadvantages of hair color more than the normal and average person. However, the professionals need handsome money and you have to go to their salons for hair color. In Covid- 19, we are not allowed to go outside, but you don't worry at all. You can dye your hair without leaving home with boxed dye present at the drugstore or just by a simple click you can get all these products.
Christin Brown, a celebrity hairstylist, and Olaplex ambassador say that you can use your hair color at your home, but to do so, you have to follow the instruction which is prescribed on the products. You do not have to put it on your head for more than the recommended time. You just have to follow all the instructions to get the good, safe, and desired
result. Nowadays, due to COVID-19, the home permanent hair color is very easy to use. It also gives good results, as well as these, are not so much costly. These hair color brands are long-lasting throughout many shampooing, sun exposure to remain healthy and shiny.
The following products are top-tested dyes from GH beauty lab experts and a real tester. These products are the editor's best choice and consumers pick up these hair dyes, due to which these are regarded as best selling hair dye products as well as the safest hair dye brand to use at home.
Read Also Hair Replacement Systems
1.     Clairol Natural Instincts Hair Dye
Coloring your hair at home is an alarming and fearful phenomenon, particularly if you are concern about harming your strands. But with the Clairol natural instincts, you can put your entire dye box without any fear and hesitation. Here in this brand, all the products are ammonia-free. Along with this coconut oil, vitamins and Aloe Vera are present in the products which condition the air. After use, you can get upgraded colors with shine. The time needed for its result is just 10 minutes. After the recommended time, it gives its best result. It has long-lasting effects, it remains on the hair for more than 28 washes.
Read Also Tattoos for Women with Short Hairstyle
2. Garnier Nutrisse Nourishing Color Crème
This brand includes a little box. But this small box contains all the needed products. From these products, you can lighten dark roots and cover gray. In these products grape seed, shea and avocado oil are present, which penetrate deep into the hair. This gives you an attractive color.
3. Clairol nice easy Best hair dye brands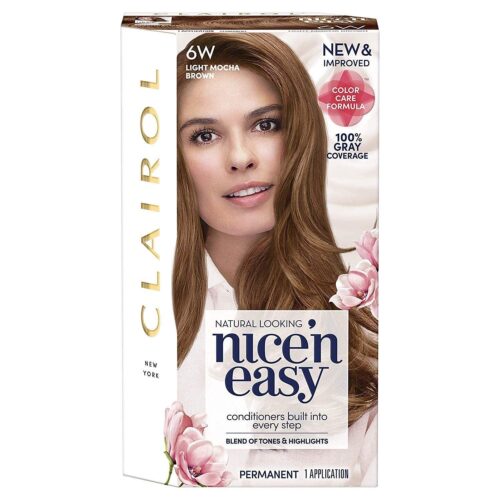 If your hair is dark reven, then in this case it is not easy to cover the grey, it's challenging. But, with the use of Clairol 'n easy it is possible to change the dark reven to grey. It also makes it very natural with a combination of highlights and luminous tones. If we talk about the smell, then don't worry. It has a very fresh and floral fragrance. After apply it makes your hair shinier and softer.
You Might Also Like This Best Trendy Short Hairstyles For Fine Hair
4. loreal Paris Superior Preference Glam Light
This kit is best for highlights. To color your hair is not an easy process, that's why people prefer to go to the salon for coloring the hair. But, if you have this kit, you can easily color your hair at your home. This has two simple steps. The first one is to fill the highlighting brush with the formula. The second one is to brush it into your hair from root to tip. It is so simple. The brush is designed in such a way that, it can blend the highlight very easily. Moreover, the formula leaves the strand glossy. One another plus point of this kit is that the process is too much quick and fast.
5. Mysteek Naturals Colour Pop
This is the best wax for home color. This color is the best choice for those people who want to experiment with new colors. It is totally chemical-free. This comes out in only one brush, so it is up to you, you can check all the bright and bold colors and see which one is right for you as well as which one suits you. The customers say that this pigment brings color to even the darkest color.
Best professional hair color brands for salon
There are many hair color brands that are used by professional and color specialists in the salon. Five of the most famous are the following:
1. Madison Reed Radiant Hair Color Kit
Dosso says that Madison is the only home hair colour I would recommend for use. The products of Madison are gentler. The most important and best thing about Madison is that their products are free of harsh and harmful ingredients such as ammonia, titanium dioxide as well as parabens. Another plus point of this brand is that this hair colour has nourishing agents like argan oil and keratin oil. You find out your shade match, all you have to do is, answer a few questions about your hair type, texture, and intended results.
2. Elgon Moda and Styling Hair Color
This is an Italian brand and almost all of its products are still made in Italy. This brand has two distinguishing features. First is, it uses 50% than any other products, thus reduced the unpleasant and pungent smell. The second feature is, the dye molecules are 50% smaller than the others. So the smaller the molecule is less the chance to slip out o the hair shaft as well as the longer and denser your color will last.
3. Best hair dye brands Goldwell Nectaya Nurturing Hair Color
This hair color is totally ammonia-free. In these products, argan oil is present, which makes this, extra conditioning. It absolutely hides greys, along with this it can also increase your base up to three levels. It has a natural fragrance.
4. Best hair dye brands Kenra Permanent Color Creme
If you have the basics of hair color, then Kendra permanent color is easy to use. This gives persistent, safe, and positive end result. This brand color is a simple and long-lasting effect and makes the hair shiny. Amazon reviewers give it the best reviews whatever the shade they choose.
Here in this brand products low- ammonia is present, that's why these are useful to apply.
5.Best hair dye brands, Redken Shades EQ Demi-Permanent Hair Gloss
This works in just 20 minutes. It is ammonia-free. You can definitely use it on its own. It lasts 4 to 6 weeks depending on how often you wash your hair as well as the quality of the shampoo which you are using.