As you know, getting a right kind of Long Hairstyles for Thin Hair is vital to appear flawless on every occasion. While styling your strands, your thin hair can really bring you to tears.
Are you worried about having thin hair? Stop worrying now!
For ladies with fine locks, it usually happens many times when trying to get their hands on a certain haircut; at the end, it just appears nothing like whatever they were trying to recreate.
However, the thin and fine texture of your hair does not imply that no hairstyle is going to suit you.
Want to know how?
Simply, all you need is a cut that will impart body and volume to make your locks appear thicker. You don't need to wander here and there to look for such voluminous hairdos.
As I have compiled the top 23 Long Haircuts for Thin Fine Hair which are extremely trendy and will solve your styling problem literally!
23 Beautiful Long Haircuts for Thin Hair – Look Amazingly Superb Now
Do you know that Long Haircuts for Thin Hair like braids, loose locks, curls, or waves can be still so enviously classy?
Thin hair is no more a rare thing, many ladies around the globe suffer from this issue. But by opting a right hairdo, one can present the fine locks in an altogether amazing way.
So, have a look at below mentioned picture-perfect styles and pick the one you like the most!
1.      Longer and Fuller Ponytail:
If you have thin and fine hair, then you must have experienced the struggle of trying to tie your locks in a ponytail. As no matter, how many versatile ways you find to style, it always ends up making a lifeless and limp hairdo.
This simple trick can work so well to become a chic, Long Hairstyles for Thin Hair. All you require is to pick up small sections of your hair and tie them in separate ponytails. At the top of the head, tug up hair to create a more voluminous look.
And finally, back combing with a round brush will add texture that you are craving for.
2.      Simple, Sleek Hairdo with Bangs:
Straight Long Hairstyles for Thin Hair are no more considered as taboo in the fashion world. Especially, if you have a layered cut to pronounce the effect. Furthermore, the addition of subtle highlights and wispy bangs is enough to upgrade your style statement.
Hence, with this simple hairdo, you can rock your sleek, free flowing strands proudly on every occasion.
3.      Choppy Long Hairstyles for Thin Hair:
Because of the wispy texture of fine hair, choppy Long Hairstyles for Thin Hair really come out tender looking and very soft. Layering is important for fine hair. Otherwise, you will end up making your hair appear limp and lifeless.
4.      Shag Hairdo for Fine Hair:
Layers, some large bouncy waves, and highlights add the necessary volume to one's thin and long hair. You still want some more?
It's super easy! Around the head crown, back comb your locks with a rounded brush. Besides giving a voluminous touch, a back-combing effect will communicate the trendy messy vibes. Such style goes so well to create a funky look!
5.      Textured Long Waterfall Braid:
Long Hairstyles for Thin Hair mainly rely on wispy long layers. To get an instant dose of volume and style for casual routine, you can even consider having braids.
Waterfall braid is an amazing choice, as its looseness does not apply extra tension to the head scalp. Further, add easy and messy waves for an Instagram ready appeal and additional texture.
6.      Wavy Long Hairstyles for Thin Hair with Bangs:
Take an inspiration from this 70's hairdo if you are looking for Long Hairstyles for Thin Hair. To create volume, which is missing in your hair naturally, this hairdo uses messy bangs paired with luscious waves. To further play with this vintage inspired style, apply teasing around the head.
Also, don't worry about the frizz. As it produces the effortlessly chic, cool vibes.
7.      Lightened, Long, Voluminous Hair:
Whether you pick the curly or wavy Long Hairstyles for Thin Hair, adding texture is the main "go-to-styling" trick. As it imparts body and movement to the thinner locks. And if you also have paler skin, then you can further boost up the looks with icy blonde hair dye.
For sure, you will appear simply angelic!
8.      Wavy Ombre Long Hairstyles for Thin Hair: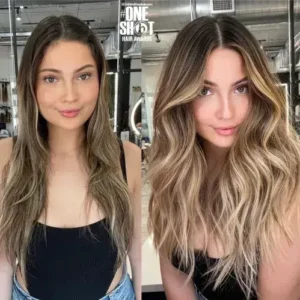 Long Hairstyles for Thin Hair along with chopped layers are perfect to show off worthy ombres. In this hairdo, the upper half is kept straight and sleek. Whereas, the lower half is careless and textured. Further, blonde highlights brighten the facial features and break up the palette.
The end result is an absolutely alluring look.
9.      Extra Long Haircuts for Thin Hair:
What your hair lack in volume can be compensated with an extra-long length. If your tresses hit your hips, then you don't have to worry about imparting tons of texture and drama to them. It is somehow tough to manage thin locks at such length.
However, by adding layers, one can create a movement, whereas, subtle highlights will take care of the style. Beautiful sleek hair makes a style statement which emphasizes on "the less is more".
10. Wavy Half-Updo with French Long Braids:
Braids and curls join hands to make alluring Long Haircuts for Thin Hair. Braids on the top keep your locks slicked back, and further create a fun factor in the overall look.
Loose and big curls at the end balance the straight top in a luscious manner. The resulting look with such Updo Hairstyles for Long Thin Hair is both lively and elegant.
11. Pretty Braided Fauxhawk:
Taking inspiration from the traditional quintessential Mohawk, this braided fauxhawk makes a nice Long Hairstyles for Thin Hair.
The sleek sliders and a loose braid are blended to enhance the volume of fine tresses. One can turn to this look, when ponytail starts feeling played out and uninspired. Waves and braids dial up a really cool factor, while ensuring your hair is full of life and body.
Moreover, a nice Balayage dye further enhances the overall adorable factor of the look.
12. Straight Hair with Heavy Layers:
The easiest way to get volume is teasing the hair tips. This way your hair will no more appear dull and flat. To get an extra oomph, use a tooth comb to amplify movement around the crown. The heavy layers for Long Hairstyles for Thin Hair prove to be a sassy finishing touch to balance the thinner mane appearance.
With this one of the most sassy Haircuts for Thin Straight Hair, you are all set to rock the party scene.
13. Waves and Bangs with Orange Highlights:
This look is simply WOW, isn't it?
To get a hot look, nothing except waves and badass will do more justice. This is the time to make up for your thin hair with an unabashedly daring personal style. Moreover, the orange highlight is another prominent plus point of this bold hairdo.
Sure, the wavy texture will add body to your manes. No matter how less voluminous your strands are, this chic, Long Haircut for Thin Hair will hit the style chart with a Bang!
14. Straight Blowout Long Haircut for Thin Hair:
A benefit of long and straight hair is that it is naturally sleek. Additionally, it makes a great base to show off and to try a bold color dye. Whether you go for a jet black or platinum blonde, you can make an impactful style statement without relying much on dramatic waves or curls.
But if you like to add movement, layered cut is a nice choice.
15. Long Wavy Hairdo for Fine Hair:
To bring movement and body, adding texture to thin hair is vital. Now, you don't have to book salon appointments anymore to get that volume you are craving for!
All you need to do is to braid the damp tresses before going to bed each night. Then, slightly roll the braids to make a bun. In the morning, let down the locks and you will get a beautiful bombshell with alluring waves.
Most importantly, make sure that your strands are dry before undoing in the morning.
16. Curled Balayage for Thin Hair:
A chocolate Balayage dye has the power to add body and depth to your locks. With curls created by loose barrel iron, you can dial up the movement even more. Further, it will create a playful bounce to create a polished style.
Whether you have a college prom to attend or a family function to rock, this Long Hairstyles for Thin Hair will never let you down!
17. Choppy Beach Long Waves:
Raise your hands if you love these messy beach waves?
A perfect summery look is created in such an effortless manner. Further, use a dry shampoo and a texturizing spray to add an extra pound of volume in thicker mane. Choppy layers and a curling cut will give the same bouncy effect.
18. One Length Hair with Bangs:
Thin, fine hair goes to your advantage to generate a streamlined and linear style. Thin hair is a great option for bangs, as you don't have to constantly worry about if it is going too puffy or not.
Plus, having the fringe on your forehead, you can easily shift attention from your thin hair to your adorable face.
19. Curly Messy Hairdo for Fine Hair:
Curly and natural fine hair is no more a problem at all. An addition of loose curls will do the whole styling job for you. It will create a fairly voluminous and lush looking style with messy curls. If your natural hair texture does not produce beautiful curls, then you can try a texture wavy product.
Hence, one can create a completely alluring look with this sassy Long Haircut for Thin Hair.
20. An Imperfect Bun:
The look of dark brown or black roots and imperfect top knot are all so trendy these days.
Back comb your strands slightly throughout the length and then make a crown bun. Long Hairstyles for Thin Hair Leave the ends sticking out. Don't forget to use a comb or brush while gathering hair to make a bun. For casual routine affairs, this hairdo makes a perfect style.
21. Long Gray Hairdo for Women over 50 with Thin Hair:
Most of the women over 50 go for a short hairstyle, however, this style is a nice and pleasant long exception. If you have naturally curly hair, then this Long Hairstyle for Thin Hair is super easy to maintain and will convey adorable vibe.
Additionally, gray color enhances the overall sophisticated look in the style.
22. All Over Layered Hairdo with Balayage:
Doutzen Kroes has decided to give us celebrity goals for fine hair. Her layers start from the chin level and goes along the hair length. In this way, additional volume is imparted in the style which is mesmerizing.
Furthermore, choose lighter dye shades for the face framing tresses to allow yourself to play with dimensional effects.
23. Blunt Ends with Medium Layers:
Anna Camp's Long Haircut for Thin Hair is too adorable, isn't it?
This hairdo consists of layers of two lengths. Longer layers with blunt ends and collar-bone layers convey a flattering and alluring look. The selection of color dye is an important factor to create a dramatic yet trendy look every time.
Whether you have a party to rock or a formal meeting to attend, you can choose this hairdo to communicate the beauty vibes out of your personality.
Conclusion:
Got a long but thin hair?
No worries, here are the top most 23 Long Hairstyles for Thin Hair which will for sure inspire you! At first, you require a thickening mousse, a volumizing spray, and a good quality conditioner to boost texture of your strands.
These will prevent your locks from appearing dull and flat. Then, a haircut with the power to make your thin and fine hair appear fuller is needed to convey the best vibes from your personality. Long Hairstyles for Thin Hair In this way, thin strands will no more be a problem to cry on.
So, scroll now to get the best of Long Haircuts for Thin Hair which will save you from the struggle of styling your thin locks!