Medium Length Hairstyles are women's perfect choice as they come at the optimum spot between too long and too short hair lengths. These are the most versatile ones and one can get multiple looks by cutting one's hair at this length.
Either you have curly or straight, wavy or kinky hair, one of the below mention Medium Length Hairstyles is going to inspire your next hair cut in this season!
By looking at the collection of the most elegant, simple, trendy, and classy Medium Length Hairstyles we have collect for you, you are going to get your next salon appointment right away in no time.
27 Chic Medium Length Hairstyles
So, get ready to try the trendiest hairstyles this season to look chic and classy. The following hairstyle ideas would definitely upgrade your looks as these are the best ones chosen according to the medium length hair. Here we go!
1.      Medium Layered Haircut:
Medium layer haircut is an ideal choice if you especially have thick hair as this haircut not only provides texture but also gives a high volume look. Subtle balayage highlights can be further add to pronounce the texture.
No doubt, medium layers haircut showcases your top section with a lovely fullness along with a classy look, just perfect for any event. Plus, if you are looking for Medium Length Hairstyle for Thin Hair, then this style is also one of the best ones to choose.
2. Angled Lob Medium Length Hairstyles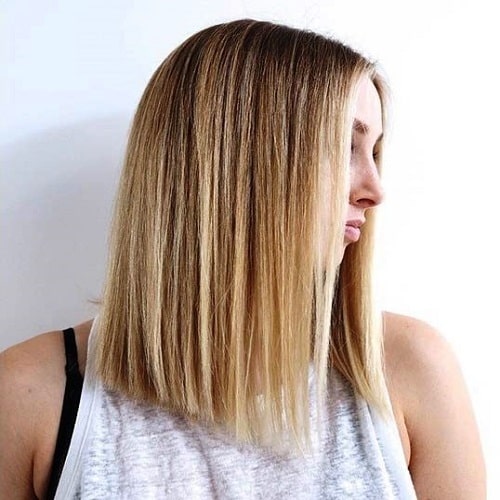 Lob hairstyle is a look that is flattering for all kinds of hair types. And it becomes more chic with an angle  feature, which throws a stack layer sensation from front to back in a gradual manner.
Angle lob medium length haircut gives a more elegant look than softer bob or lob haircut. Relatively longer length at the front and gradually reducing the length at back further lightens up your personality.
3. Side Swept Medium Length Hairstyles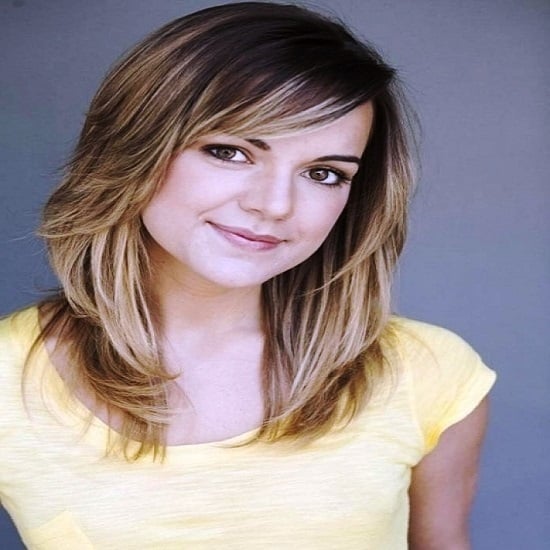 This is another classy cut that gives you a perfect look with almost no efforts. In this style, on the midpoint bang touches the eyebrows and then hair is brush to both sides.
Side swept medium length haircut is a simple yet convenient attire for those who want an interesting cut without much struggle. Hence, this is one of the classiest Medium Length Hairstyle with Bangs. 
4. Shag Medium Length Haircut:
The versatility that shag provides for all kinds of hair types is unmatch. Sleek shag, wavy shag, and curly shag, all provide a modern look with less mess. In order to maintain a further shiny look, use oil or smoothing serum.
So whatever hair type you have, get shagged medium length haircut to achieve the ever trendy look this season.
5. Face Framing Shoulder Haircut Medium Length Hairstyles
Another one of the Medium Length Hair that matches this current season is face farming shoulder haircut. This haircut comes right below the shoulder and keeps face framing layers at the minimal point. It gives a super thick and healthy look to the hair.
So if you are coping with the thin hair issue, then this hairstyle is the best choice to give your hair healthy attire this season.
6. Vintage Side Part Medium Length Hairstyles
This vintage style old Hollywood inspir haircut has so much glamour and stylish look to give you this season. And it is well suit for medium length hair. A vintage side part along with layers gives a chic look that we all want to have.
So, for all the party freaks this vintage side part medium length haircut is a must try.
7. Clear Cut Medium Length Hairstyles
If you are looking for some clean and low maintenance Medium Length Hairstyles, then clear cut haircut will be your perfect choice. It's a layer free cut that makes medium length hair look lengthier than actually what it is.
It gives you a simple and clean look with no mess.
8. Wispy Layered Medium Length Haircut: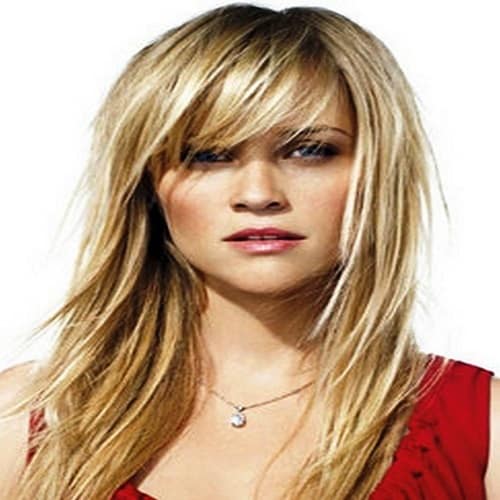 If you are a layers lover, then wispy layer medium length haircut provides you with an elegant diversity. The cut frames the face and it's a perfect match with Medium Straight Hairstyles. By blow drying your slightly wet hair, you can add wispiness in your hair quite easily.
It also gives a funky look which is what our teenagers are looking for.
9. Laidback Waves Haircut:
If you are looking for a low maintenance Medium Length Hairstyles, then laid back waves haircut is what you are searching for. In this style, just have a cut till the shoulder and loose waves will do the rest of the magic.
Use some mousse or wet spray and then by using different parts of your hair dryer, finish off the right style for your hair.
10. Chic and Smooth Sleek Haircut:
Sleek medium length hair with no mess provides you with an unparalleled chic look. Either you are heading towards your office or going out with your girls, this perfect look will always keep you moving with ultimate confidence.
11. Tousled Medium Length Haircut:
If you have colored hair, this hairstyle is one of the trendiest Medium Length Hairstyles for you this season. The subtle color along with a slightly off centered tousled layers gives a revolutionary look to your personality. Hence, tousled layers are another must-try option to grab a catchy look.
12. Beach Waves Medium Length Haircut:
Born by the sea, these beach waves medium length haircut is ready to give you an elegant and modern look in this season. It is relatively easy to style and requires less maintenance and care. What makes this style a win, is that it looks even better at dirty hair than clean hair.
So if you are planning to have a party season then this is the best look to get inspired by.
13. Beach Babe Medium Length Haircut:
This is another chic look that can be achieved with medium length hair. Layers are provided in an asymmetrical manner that pronounce the fun and flirty look. Instead of changing the hair's natural texture, this haircut embraces the inherited waves possessed by your hair.
Furthermore, to add texture and finishing, beach babe sea salt serums and sprays can be used.
14. Disco Diva Medium Length Haircut:
If you are looking for tons of movement and texture, then disco diva medium length haircut is your perfect choice in this regard. The scrunched up and messy waves along with dramatic bend on one side give you a super fun look.
Fun layers in the hair can be further added to give a light and shiny feel.
15. Slicked Back Medium Length Haircut:
In order to avoid a mess, this simple slicked back medium length haircut is one of the best options to consider. Just get your hair super straight and brushed them back behind the ears. This, an old haircut, is again getting trendy in red carpet looks.
It gives an edgy look that is perfect for a night out with your loved ones.
16. Shoulder Length Bob Haircut:
This one of the oldest Medium Length Hairstyles is still trendy and easy to maintain. It fits almost all types of hair and face shapes. A little bit extra layered texture at the end of the hair will add elegance to this style.
Either you are going to the office or a family function, this haircut gives your personality a perfect look.
17. Medium Length Layers with Flipped Ends :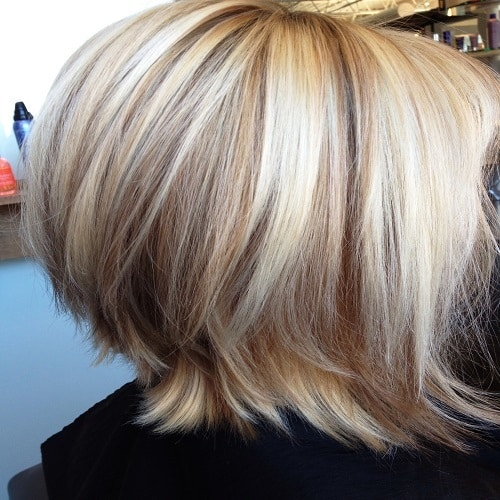 If you want to wear your hair straight then this haircut provides you with softened cuts. It also adds a movement in style while maintaining the required sleekness. This one is considered as a traditional look in the hairstyle industry.
In order to get a polished look, blow dry your hair with a round toe brush in sections.
This is one of the best hairdos which comes to mind while speaking of Medium Hairstyles for Round Faces.
18. Feathered Layered Medium Length Hairstyles:
If you are blessed with thick hair, then feathered layered medium length haircut is one of the best options for you. With a retro feel, this feathered and sleeked style is an edgy option this season.
This cut has heavy layers embedded in thick hair without fearing the lack of volume issue. Just go and grab this one of the chic Medium Length Hairstyle for Thick Hair.
19. Bouncy Layered Medium Length Haircut:
If you are obsessed with layers and a straight, sleek hairstyle, then the bouncy layered medium length haircut is what you need to get. This is best suited if you don't want your hair to look flat.
In the end, the layers are curled softly with a straightener to sprinkle some dimension and movement in the looks.
20. Side Parted Lob Medium Length Haircut:
This is another one of the chic Medium Length Hairstyles. Textured ends of the hair not only add a classy look but also provide a dimension and movement to flat hair to give dynamics. This haircut is a bold yet elegant addition to the hair styling world.
Further addition of color can boost up your summer look!
21. Curly Haircut with Side Bangs:
If you are looking for curly Medium Length Hairstyles, then this one is a must to look at. For a younger look, the side bangs are a perfect choice to grab. This style is short enough to be called manageable and long enough to keep the feminine look.
Hence, either you are a party freak or office going woman, this style is adorable in each case.
22. Rounded Collarbone Bob Medium Length Hairstyles:
If you have cool blonde hair, then this rounded collarbone bob haircut is the best thing to try to get a classy yet funky look. This simple yet glamorous style is never out of fashion.
A rounded job with a blonde highlight in your medium length hair is enough to boost up your personality look. Hence, this is one of the elegant Medium Length Hairstyles.
get some inspiration by viewing latest Medium Length Hairstyle for Women over 50
23. Feathered Bob Medium Length Hairstyles:
Bob is a hairstyle that you can immensely play with. It gives you versatility along with never ending stylish look. For most of the face types, a medium length bob haircut along with heavy layers looks adorable.
Furthermore, faint highlights can be added to pronounce the bob's versatile dimension feature. This mysterious aesthetic look makes this cut one of the adorable Medium Length Hairstyles.
24. Cinnamon Layered Medium Length Hairstyles:
Are you a cinnamon lover in the winter season? Now, you can get a feeling of cinnamon even in summers too. The cinnamon highlights in medium length layered hair are ready to give you the most glamorous look in the friends and company.
An extra pinch of red shade on the top of cinnamon base will get you to have a lighter feeling in thick hair, making it one of the best Medium Length Hairstyles.
25. Textured Plum Medium Length Hairstyles:
To the women having naturally curly hair, this haircut is the best option to opt. Strands will be enabled to spiral easily by providing texture to the layers at the end. Another main highlight of this haircut is fun and funky color.
For just an extra sass, this color and texture addition is a great solution for all forms of hair types.
The plus point of this Medium Haircut for Black Women is that it works for Black women of all face shapes.
26. Razored Layered with Inverted Lob Medium Length Hairstyles: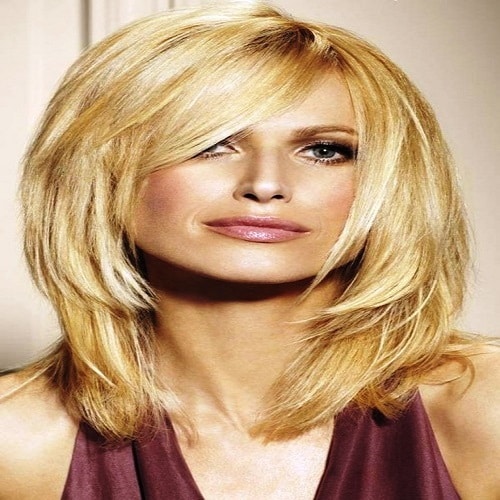 If you are looking for something catchy this season, then razored layered with inverted lob medium length haircut is a stylish option to choose. Razored layers are already in fashion for a long time. An additional inverted lob further adds up to the look.
Big curls can also be added with a straightener or curling iron to get a perfect movement.
27. Elongated Layered Medium Length Hairstyles:
If you are looking for some super stylish look to rock the party this season, then elongated layered medium length haircut is there to get you. To get the desired look, elongated layers are embellished with fine tailoring at the end.
28. Mid Length Layered U shaped Hairstyles:(Bonus)
There are so many Medium Length Hairstyles that can be opted and modified. Layered hair style along with the U shaped texture on the back is enough to give a soft yet chic look.
Plus, texture serums or oils and sea salt sprays can be further used to pronounce the elegant look.
Conclusion:
Hence, if you are not able to choose whether you want long or short hairstyles, then Medium Length Hairstyles are the best choice. Not just because it comes in between them, but also because of the versatility this length provides.
From layers to bob, and shag to sleek, all hair styles have a great room for modifications and transitions. One can choose the Medium Length Hairstyle from a number of options mentioned above.You can watch more Medium Hairstyle click here