As, the Ponytails with Bangs can be turned into millions of different ways for a unique look. This is a very playful and lively hairstyle for Ponytail with Bangs But the question arises, would it be suitable for your face shape, or maybe too dark or light to blend with your complexion?
Most importantly, what kind of hairstyle your hair texture will allow you to make?
Worried about these problems?
But, no need to worry anymore! I have the perfect hairstyles for you. Moreover, it keeps a note whether or not to suit your hair.
You can look the sweetest among all your friends or the sexiest on your date. Just pick a hairstyle that matches your mood, and you're ready to rock!
 26 Hairstyles for Ponytails with Bangs that will Give You a Stand-Out Look!
If you are afraid to bring a big change for your hair, try something little, something that matches equally with your mood as well as your nature. Just like Bonnie Langford says:
"For years I used to try to straighten my hair, but I've reached a stage where I think, I've got red curly hair, and it's actually really great."
So here are some great hairstyles for Ponytails with Bangs to give you an outstanding look.
1.      Ponytail with Arched Bangs:
No doubts in it, this is a super easy and elegant hairstyle. In fact, inspired by the great Nicki Minaj, this a super-classy look which suits best on jet black hair.
Plus, it goes with a long high ponytail with long arched bangs on the forehead, which is also great for people with long foreheads. So, this is for Ponytails with Bangs for Black Hair.
2.      The Duff-Styled Ponytail:
Definitely, this look is the perfect description of "messy yet dressy." The look is gracefully carried in a ponytail whereas, some strands of bangs sweep down your face in a rough look.
Furthermore, caramel blonde highlights would perfectly go with this hairstyle.
3.      Parted Bangs with Half Ponytail:
Do you love voluminous hairstyles? Then this hairstyle of Ponytail with Bangs is made for you!
Take a half section of your hair and pull it in a ponytail while letting the rest hair flow down. Moreover, subtle curls at the end of your hair could be given for a much better look.
Then , part the long bangs from the middle. These middle-parted bangs would give you a unique and intriguing look, just like the gorgeous Hayden Panettiere.
4.      Glamorous Ponytail with Side Bangs:
Indeed, this is the best hairstyle for a formal occasion or party. Not only it is trendy, but also is a comfortable and easy-to-handle hairstyle.
Firstly, straighten your hair well. Secondly, pull out your hair in a side bang with teased roots. Gently, tie a low, side ponytail and curl the ends. At the end, set your hair with a spray and you can freely carry your elegant look.
5.      Ponytails for Wavy Hair:
To sum up, the most wanted hairstyles are the Ponytails with Bangs Weave. In this hairstyle, the bangs on your forehead are fashioned in a sleek weaved manner, while the back of your hair held in the ponytail is wavy, giving you a messy look. So, this classy plus rough look will surely make you feel like a fashion star!
6.      Side Bangs for Curly Hair: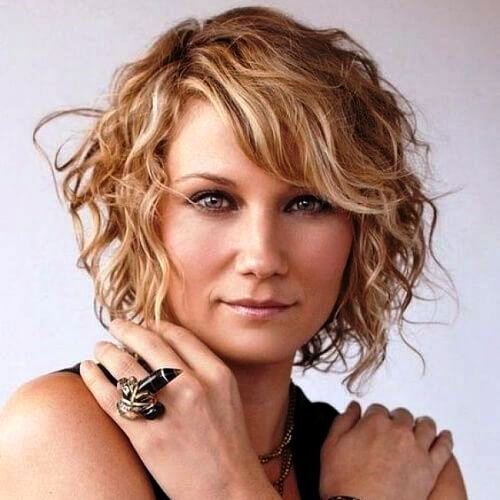 Looking for a way to set your curly hair in a bomb sexy look? Here you go! When you are in a rush, this hairstyle is easily made in a minute or two.
Furthermore, if you don't have natural curly hair, feel free to give it some light curls. Just tie your hair in a low ponytail at the nape and this great messy and sexy look will make you glam!
7.      Sleek Ponytail with Bangs:
If Beyonce is your style icon, then go for this hairstyle without any hesitation. In this hairstyle, your hair is tightly held back in a ponytail giving a sleek look.
The high or low position of the ponytail is optional. Whereas longer bangs are shortly trimmed from the middle, while the corner strands slightly longer reach the ear-length.
8.      Two-Toned Pony for Thin Hair:
This hairstyle for Ponytails with Bangs perfectly names for "two colors in one." Moreover, this is a playful look that throws fire on your opposition.
Indeed, giving your hair a hot red color with your natural hair color would definitely be the sexiest thing of the day.
"Red hair sir, in my opinion, is dangerous."- PG Wodehouse.
9.      High Ponytail with Contrasting Bangs:
This is a very playful and lively hairstyle for Ponytail with Bangs. Undoubtedly, this generous hair look will surely take you in. The blending of any two colors is optional.
Usually, a playful nice color is given to the heavy bangs on the forehead.
10. High Ponytails with Blunt Bangs:
Searching for some girlish kind of look?
High Ponytails with Bangs look extremely amazing and is an "on-trend" look. High Ponytails with Bangs give a sassy look. It can greatly work for a formal as well as an informal occasion.
In a matter of fact, blunt bangs give your hairstyle an edgy and extremely sleek look. These high ponytails are mostly loved by many celebrities like Ariana Grande, Miley Cyrus, Kety Perry and many more.
11. Vintage Curls:
This Ponytail With Bangs is an absolutely classy look. Your hair gives extra volume with heavy curls to set. Pin it up at one side in a look of pony. Also, sweep the Ponytails with Bangs on the similar side as the pony.
A light grayish color would be perfect for this hairdo.
"Gray hair is God's graffiti."- Bill Cosby.
12. Under-Shaved Ponytail with Bangs:
Black Hair Ponytails with Bangs looks extremely sexy and cool. The under-shaved part could be designed in different shapes.
Furthermore, a high ponytail is held above the shaved part. The bangs could be slightly wavy.
13. Pony with Cornrows:
This hairstyle is ruled by full cornrows and a usual high ponytail at the back. The fine hair in the Ponytails with Bangs is straightened neatly.
A blond color for the cornrows, whereas dark brown color for the rest of the hair would give a nice shiny look. Black women usually tend to aim for this hairstyle.
14. Classy Flower-Studded Ponytail:
This classy look for Ponytails with Bangs is a cute and fresh look. Start with slightly back-combing your hair to give it a messy look.
Now tie your hair in one side with some fresh flowers and pearl decorations. Lightly sweep your long bangs to the same side as the pony.
Indeed, this is a great hair look for a romantic date night. So get an impossibly catchy look with this hairstyle! Just like the great catchy looks of the beautiful singer Selena Gomez.
15. Pineapple Ponytail with Whirl Bangs:
Tired of the same Mohawk and Afro styles? So go for something new and playful! This cool pineapple ponytail goes with under and sides shaved with a variety of designs or shapes.
In this Ponytail with Bangs, longer bangs are in a whirled manner. Moreover, a honey blonde color might give an amazing funky look.
16. Sleeked Curly Hair:
Curly hair can definitely be really torturous sometimes. But no need to fight it anymore!
Neatly part your hair into two sections from the middle. Tightly pull it back in a ponytail. You can also use the help of a hair gel or some other product if your curls are too disobedient.
So this hairstyle gives the picture of the tightly sleeked low Ponytails with Bangs, with curly locks flowing down. Moreover, this is a simple yet perfect look just like the ravishing beauty Zendaya Coleman.
17. FishBraid with Side Pony and Long Bangs:
This hairstyle for Ponytail with Bangs is a great combo of braids. Start with a fish braid as a headband. And some mini braids. Loosen the braids to give it a funky look. Then pull all the hair in a side pony.
Also, bring the long bangs to the similar side. Furthermore, adding a white blossoming flower to the braid would definitely add to the beauty of this hairstyle!
18. Wavy Ponytails with Bangs: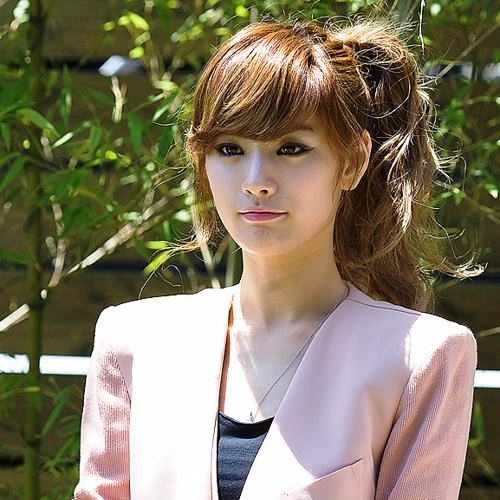 In the world of "Ponytails With Bangs", Zooey Deschanel has never lost her track. She always handles her wavy locks in a graceful manner.
As much as wavy hair takes effort for getting into place, it is as much beautiful and full of charm.
Pull your natural wavy locks into a simple ponytail with some messy bangs on the forehead.  Because "the simpler, the better!"
19. Simple French Braid with a Ponytail:
This funky hairstyle is a combo of a braid and a ponytail. In fact, you can call it a braid in a ponytail. It is an astonishing classy Ponytail with Bangs.
Tie a loose ponytail and fashion it in a messy French braid. The bangs should be in a wavy and the less voluminous way for a better look.
20. Ponytail with Sweet Puff:
Do you have a round face and looking for a cute hairstyle? If you think ponytails don't really suit your face, try this look! It will surely change your mind.
Start with back-combing your hair and setting it in a sweet mini puff. Take some little hair out for the bangs and give it a light curl. Tie the remaining hair in a tight ponytail.
Furthermore, in this Ponytail with Bangs, streaking with a light shade would also add up to the beauty.
21. Side Sweeping Bangs with a Bow:
Looking for a perfect date night? Be sure that nothing can be more romantic than this hairstyle! This hairdo of Ponytails with Bangs works smoothly on blond hair.
Pull your light hair at the side and in a ponytail, then flip it from inside the ponytail. This will give a twist glamorous look. Sweep your bangs on the opposite side as the ponytail.
Furthermore, for a classy and cute look, cover the ponytail with a ribbon or a bow. After getting all this done, you're all prepared for an eye-opening impression on your date!
22. Face-Framing Bangs with a Low Puff:
This classy Ponytail with Bangs is parted from the middle. The two sides of the bangs frame the face. Moreover, this highlights the features more impressively.
In addition to this, slightly back-comb your hair in a little puff. Hold the rest of your hair in a ponytail and curl it with a hot iron rod. Thus, this will give your hair the much-needed volume.
23. Ponytails with Colorful Ends:
No wonder Katy Perry is a marvelous singer, but in addition to that, she also knows the great technique of how to play with colors?
So for a funky cool look, make sure to try one of her hairstyles of Ponytails with Bangs. Maybe like the one in which she colored the ends of her sleek, high pony in a shocking blue color.
In addition to that, a unicorn-style ponytail would be the perfect look for you!
24. Wavy Bangs with Crimpled Ponytail:
This Ponytail with Bangs is a super funky yet sassy hairstyle. Hold your crimpled long locks in a ponytail. Arrange the bangs in a messy way, that would give a flattering look.
25. Pulled-Up Bangs:
This hairstyle of Ponytail with Bangs is as old as the old 50's. Just like the gorgeous Kate Beckinsale, pin up your bangs neatly. Curl the ends of the ponytail and glam around!
26. Great Textured Hair: (Bonus)
If you are blessed with naturally textured hair, then this hairstyle of Ponytail with Bangs is perfect for you. Just work with your natural blessed hair and tie it in a half ponytail slightly at the top of your head.
Conclusion:
As promised, here I gave you from "the sweetest to the sexiest" Ponytails with Bangs. Moreover, nothing here is too complicated or too much time-taking. It's all simple and gorgeous.
So make sure to groom your looks with these! As well said by Martin Luther:
"The hair is the richest ornament of women."
Moreover, hair styling for sure is a passion. Every woman believes that her hair tends to be a certain sort. No force could accomplish this beauty of nature. As much as you know your hair, the prettier you'll be able to handle it.
"Hairstyle is the final tip-off whether or not a woman really knows herself." – Hubert de Givenchy.