Short Pixie Haircuts are the latest trending ideas these days
Looking for a hairstyle that gives you a funky tomboy look? What are you waiting for! Get yourself a Short Pixie Haircut without a second thought!
Many of you might face difficulty in handling different kind of hair like sometimes it's tough to deal with thick hair or curly hair could exhaust you a lot, sometimes; but it's easy to combat with such issues with an ease!
How? Just keep on reading!
The new trending pixie crop not only gives a tingly bewitching look, but also screams of an independent carefree woman.
Moreover, the new pixie hairstyles are one of the greatest trends nowadays and are seen by many celebrities like Miley Cyrus, Emma Watson, Ruby Rose and many more.
No wonder that getting your hair to just a few inches needs guts, but trust me it's totally worth it!
Apart from that, a new change in life never bothers. On her new short haircut, Pamela Anderson says: " I just thought my hair had had a life and I kind of wanted to put that behind me and start fresh."
Additionally, there are many different pixie crops to match your face shape as well. So do not miss this precious information given below in the form of 20 Best Short Pixie Haircuts.
19 Short Pixie Hairstyles – Get the Change in Your Typical Look Right Now
If you think short haircuts cannot be much styled, you have the wrong idea. These Short Pixie Hairstyles come with endless possibilities.
They could be spiked up, side-tapered, swooped aside or slicked back. With some proper knowledge and a great stylist hand, you can transform into any kind of new trendy pixie haircut of your choice.
So a little change never hurts. Once you've had these Short Pixie Haircuts, you'll surely love your mouth-drooling new look.
1-Chic Choppy Pixie Cut For Round Face:
If you have a round face and you are looking forward to a Short Pixie Haircut, then this chic choppy pixie cut should be your major priority.
As a matter of fact, many pixie cuts do not suit much for a round face, but if you have a round shaped face you surely need to opt for this!
2-Rich Brunette Pixie Cut:
Many of you might face a lot of difficulties to handle long wavy hair. The rich brunette Short Pixie Hairstyle works best if you have naturally wavy hair.
Moreover, for a sprinkle of a classy look, make sure to have a dark color of your hair. Jet black wavy locks with a pixie brunette cut, just give it a finger-toss and you're ready to go!
3-Edgy Asymmetrical Haircut:
This type of pixie cut is a blend of both long and short hair. It is long from the front and short from the back. Much of the volume at the back maintains the look, giving it a great jazzy look.
For greater enhancing you could pick a lighter shade of hair color. Some kind of a light brown or blonde would make you look in vogue.
4-Short Pixie Haircuts For Thick Hair:
Although having thick hair is a natural blessing, however, many women might face difficulty in handling them. Having a Pixie Haircut For Thick Hair is the best possible remedy.
In addition to providing a natural volume to your hair, thick hair when barbed into a Short Pixie Haircuts helps you give a great classy look.
Some of the best pixie crops for thick hair, which are trending include The boyish pixie haircut, side-shaved pixie haircut, layered pixie haircut and a much greater variety to go on with!
5-Short Pixie Haircuts For Curly Hair:
As much as curly hair is fine-looking, they are as torturous when it comes to handling them. The best remedy for such a problem is to have Short Pixie Haircuts For Curly Hair.
The greatest advantage of a pixie cut is that it is easy to handle, then whether it be dreamy colored ringlets or messy curls, they all add up a modish charm to your beauty!
For curly hair undercut styles are very popular for both women and men. Then again, no competition with the layered pixie cut which gives your curly hair a mouth-dropping look!
6-Spiky Short Pixie Haircut:
The women of modern era walk side by side with men notwithstanding the fact of being a woman. Such woman, tend to get a Short Pixie Haircut that makes giving them a boyish look.
Either it is a classy look for the office or a night out for the club this spiky cut would be great. Furthermore, to boost your beauty points get a light blonde shade on this spiky short haircut and you're good to go!
7-Short Bob Pixie Haircut: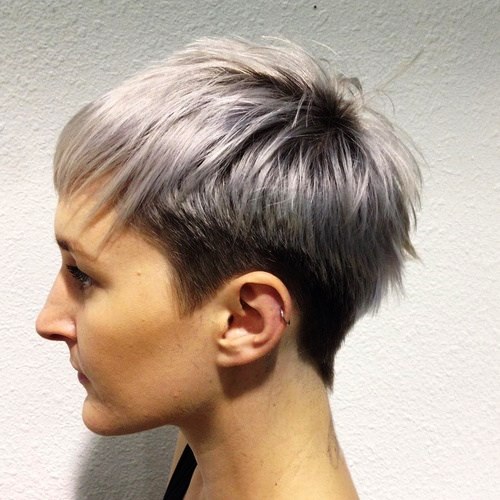 The Short Bob Pixie Haircut is the perfect choice for a nice sassy look. Among the most likable of bob haircuts are the layered bobbed haircuts and the shaggy bobbed haircuts.
Short bob haircuts on curly hair can also be maintained with a proper hand, in spite of the disobedient, curls. In fact, messy ringlets could add a greater charm to your hair with a proper pixie crop.
The blunt bob with a pixie twist highlight your facial feature as well as giving you an awe-inspiring look.
The heavy bangs pixie bob gives you a variety of choices like swing pixie bob with bangs or textured pixie bob with fringes.  Go for these and shine around!
8-Pretty Punk Short Pixie Haircuts:
Rugged Short Pixie Hairstyles definitely give you a funky rough look. This punk style leaves a bit long locks of hair on some part of the face with absolute short hair at the back.
Whenever looking for an easy-to-care or a sexy haircut the purple punk pixie cut is at the top of the list. So if you want to go for an intimidating new short haircut, go for this cool punk pixie haircut. This will surely give you an extraordinarily funky look.
9-Classy Side-Parted Tapered Pixie Haircut:
Many of you look forward to a decent, but trending look. The side-parted tapered pixie haircut is redeemed this wish of yours, in the same token, it is also functional for women loving the baby-fine hair.
This Short Pixie Haircuts also helps you maintain your conservative look. It is styled in an angular manner and is side-parted giving you the best professional look, so go ahead and rock the day!
10- Short Pixie Hairstyles With Bangs:
Short Pixie Haircuts With Bangs collect the paramount style points among all the Short Pixie Hairstyles.
The pixie haircut with bangs is tapered in a way that is long hair lingering from the top while short hair covers the neck.
Moreover, this haircut works with normally any shade or color, but for a fresher look, prefer going with a blonde hue with dark roots.
11-Hawk-Like Short Pixie Haircut:
This is one of the most popular of the Sort Pixie Hairstyles. Not only popular, but also is one of the highly sophisticated pixie haircuts.
It gives the look of a Mohawk and looks best with a silver shade. It is with high spikes at the top and tapered at the sides.
Use a product with great hold to keep those long atop spikes in place and you're all good!
12-Buzzed Pixie Haircut:
Looking for a super short hair transformation? Tell your stylist for a buzz cut.
Your stylist would give you a super Short Pixie Haircut buzzed with an electric razor. Yes, it sounds scary, but your first glance would peter out all your fear!
13-Ash Blonde Pixie With Nape Undercut:
Women with blonde hair often find their hair boring. The perfect remedy for this is the ash blond pixie haircut with nape undercut.
Smoky hair tones are at the top trend list nowadays. In spite of this fact, consulting your stylist would always be better to get a softer look which also works with your complexion.
Ash blonde color on an edgy pixie crop would give you a new glossy look. Even though the nape undercut is optional, but for a great finishing look you better go for it!
14-Blond Pixie With Short Angled Layers:
This Short Pixie Haircut is cut down in a gradual reduction all the way down the neck.
Its V-shaped layers give you the dynamic style you're looking for. Above all, the light shade on these angled layers works as an eye-opener!
15-Choppy Pixie Fade:
This Short Pixie Haircuts has a shaved bottom-line with edgy layers.
As a matter of fact, this idea is the most refreshing and unique to pull out in hot summers. After all, who won't like hair off the neck in summers! So without further awaiting get this stylish yet magnificent look.
16-Rockstar Red Pixie:
You feel like a Rockstar, but at the same time, your hair won't cope with you to achieve your dreams. Get this cool funky Rockstar red pixie haircut.
It has the tapered sides with bangs till your ears or it's optional to keep them a bit longer till the jaw-line. You'll not only feel like a Rockstar but also have a great mouth-dropping effect on others.
To polish your looks try the trendy hot red color right now!
17- Short Pixie With Side Undercuts:
This Short Pixie Haircut goes up for a jolly playful look. Creative and bold women should definitely opt for this.
In addition to a great fade of undercuts which could be enhanced with different designs, there is a Mohawk spike at the top.
Above all this, to give your pixie haircut a colorful look, the lilac color would suit best.
18-Short Pixie Haircut For Fine Hair:
Occasionally, thin, fine hair is assumed hard to handle, but as a matter of fact, this could give the most elegant looks if properly handled.
Short Pixie Haircuts For Fine Hair can amazingly transform your looks in a variety of ways like:
Tapered bowl cut which incredibly attained by many celebrities.
Short red cut with wispy layers which gives an edgy new look.
19-Edgy Blond Cut For Oval Face:
This Short Pixie Haircut is perfect for women with an oval-shaped face. It looks best with a matte shade of blonde to go with.
In spite of giving you a decent, charming look, this haircut could raise a bubbly girl's inner bad girl.
20-Silver And Shaggy Pixie Haircut: (Bonus)
This Short Pixie Haircut is the best way to prove the wise woman inside you. With a shade of smoky ash-like hair, you can show off your youthful and playful self.
In addition to this, the long wavy locks at the tops give a soft impression. The luxurious waves make you look like a funky chic who is "just out of bed!"So go on with this cool funky short pixie haircuts and rock the day!
Conclusion:
These Short Pixie Haircuts, not only add a different and magnificent charm in your beauty but also make you look like a fashion diva. They have a great hand in grooming a woman's personality as well.
The best part of having this pixie haircut is that they are easy to maintain and are just a toss of fingertips. Unlike long hair these short haircuts do not need much power and time. Just a simple flip back and you effortlessly look marvelous! What could be better?
These Short Pixie Haircuts give you the confidence of a free-living independent woman. As Emma Watson quoted:
" I've never felt so confident as I did with short hair-I felt really good in my own skin"
As much as we ignore this fact, we need to accept it one day that to crop your hair to a few inches is great, big deal. All of us make this decision for different reasons.
Someone wants to prove herself, or fly like an independent bird or to bring a change in herself but whatsoever this change is necessary.
Coco Channel once said:
" A woman who cuts her hair is about to change her life."
And sooner or later a bit of change is always needed in everyone's life. So go for this new change and show the world what you're made of, and how capable you are!