Layered Haircuts is an amazing way of wearing the tresses in the most stylish and classy manner
Tired of your old look and want to adorn? Here is the kicker! Transform your look completely with these Layered Hairstyles. These trendy Layered Haircuts will totally change your personality and make you a Fashionista instantly.
Indeed, there are various types of hair like thick, thin, straight, curly or wavy. And not all types look best with layers. So, it is a big problem of many girls.
But here is a good news:
Now you can try Layered Hairstyles on each and every type of hair regardless of the texture and appearance. How?
There are a few cutting techniques that make your hair look amazingly better. For instance, thin hair requires the specific layers that may let it look thicker.
So, do not miss the word, and find the perfect layers of your hair right now! The information given below is totally based on the experts' opinion and hairstylists' experience.
Just try different Layered Haircuts and go rocking!
31 Trendiest Layered Haircuts that would Let You Look Astonishing
Are you reluctant to haircuts because you think they might not suit you? Do you afraid of losing your long hair and end up looking even dumber?
Well, then say goodbye to your fears and try these amazing Layered Haircuts. They will ultimately bring new looks for sure and furthermore make you look younger, high-spirited and liberal.
Hair can be the magnificent booster to beautify. Finding your perfect hairstyle can be a hard task. If you are oblivious of the perfect haircut for you, well, then now is the time to find one for yourself.
These classy Layered Haircuts will resolve your problems all at once. The diverse Layered Haircuts will provide you with a wide variety of options to choose from and you are definitely going to find one for you today. Bold promise??  Yes, why not.
So, here is the deal!!!
1-Long Layered Haircuts with Highlighted Films:
"I think dress, hairstyle, and makeup are the crucial factors in projecting an attractive person and give one the chance to enhance one's best physical features." Vivienne Westwood.
Long Layered Haircut only suit the straight hair, is just a myth. This flawless hairstyle is an excellent epitome to break the stereotypes, however, if you have naturally curly hair then this is an ideal choice for you.
The highlighted films will add so much glamour to your look and make your hair remarkably stunning.
2-Choppy Layers Hairstyles:
Are you also a victim of hair fall? If so, then get this haircut without a second thought. This Layered Hairstyles totally resolves the thin hair problem. In fact, it adds volume to your hair and makes you forget about your thin hair problems.
3-Duolength Layered Haircuts:
This Layered Hairstyles usually suits women with a sharp jawline as well as the squared faces. The sharp ends of the two different layers stun so beautifully that you will love your day.
4-Blowout Long Layered Haircuts:
If you have gorgeous wavy hair, then this is the perfect way of presenting them. As a matter of fact, the best part about it is its versatility. All you have to do is an appointment with your hairdresser and then you are ready to slay the world with your blunt layers.
5-Long V-Cut with Blondes:
Layered Haircuts are one of the most easy-breezy ways to look fabulous swiftly and this haircut is one of the tactics to look effortlessly great. Also, it will enhance your entire look in a very remarkable way.
6-Messy Hair with Subtle Layers
Want to add style to your look while having a maximum length of your hair? Stop searching further.
Here is the quest for your long lasting thirst!!
You have found the absolute haircut for your demands. This glamorous Layered Hairstyle will give you a charismatic look in minutes.
7-Banged Waves:
This Layered Shoulder Length Haircut is one of the trendiest and catchy coiffures of the time. If you want your hair to lie midway between short and long and look elegant at the same time, go for it today.
Let the world wonder about your hair experiments!
8-Magnificent Layered Pixie:
When it comes to fashion, this Short Layered Haircut always lies at the top. Moreover, it's a messy layered haircut textured with a voluminous covering that will make you the hottest damsel promptly.
9-Short Asymmetrical Cut:
Are you a short height lady and looking for a perfect hairstyle for you? This is what exactly you were finding! This Layered Hairstyle will glamour your look instantly and turn you into a magnificent Fashionista within minutes. Of course, the remarkable look will make you fall in love with your hair in no time.
10-Soft Layered Bob:
This Layered Bob Haircut is pretty iconic. It should be the most prioritized if you are having the problem of a long and wide forehead. It will cover the major part of your forehead and make you look an amazing lady in a matter of seconds, likewise.
11-Layered Haircut with Bangs:
Bid a goodbye to contouring with this beautiful Short Layered Hairstyle. Besides giving independence of contouring, this Layered Haircut will give you a showy look. Comparatively, it looks surprisingly great on every texture and face shape.
12-Chopped Pixie with Layers:
This is one of the most unique hairstyles, that will let you get rid of tangled and messy hair. Despite its short length, it still looks pretty girlie and elegant.
13-Short Razored Bob:
When it comes to hair, no one really likes to take risks. Well, it's natural! If you are also reluctant to Layered Haircuts, don't make them too short. You will definitely love this Short Layered Hairstyle as it will add extra volume and beauty to your hair.
14-Pixie with Voluminous Crown:
When you need a catchy and trendy look all at the same time, Layered Haircuts meet your needs efficiently. For example, consider this one. In the light of fact, this is a perfect haircut for chubby faced ladies as it gets the major part of the face covered with flawless hair.
15-Angled Bob with Coffee Colored Layers:
Are you also obsessed with your morning coffee color? If yes, go for this color and style. This Layered Haircut will suit you so well and will engross the whole day in love with your hair.
16-Flaring Layers with Boundless Bangs:
If you are blessed with long flawless hair, then this is the best option for you. The long flaring layers with sharp brown bangs will really make you a cool lady, and you will definitely crave your hair to remain as it is for the rest of your life.
17-Dimensional Layers with Stacked Pixie: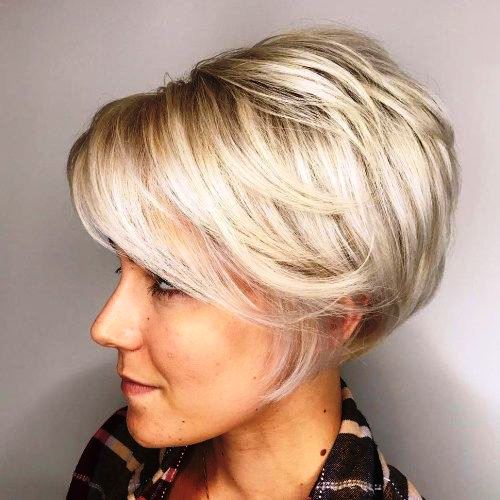 If you are looking for a style that is trendy, girlish and timeless, this is the one. The perfect mixture of blonde dimensional sheets and messy stacked layers is the most demanding hairstyle that will seize everyone's attention towards you.
18-Jagged Bob with Blonde Layers:
Gone is the trend of all hair in one length. Now is the time for Layered Haircuts. This hairstyle is pretty simple yet an epitome of its own kind.
Just cut your hair in different lengths, color it with a beguiling shade and you are all ready for an exquisite summer.
19-Blonde Shining Inverted Bob:
Layered Haircuts can never be a bad decision. They always add more beauty and glamour to your look. For a modern, classy and charming look, this Layered Haircut is the best pick. This inverted bob fastened with blonde shining hair is all you need to fall in love with your hair every day.
20-Stunning White Pearl Bob:
This Layered Hairstyle is for the one tired of managing her thick hair. The divergent layers will not only make it all easy to handle, but also unique white color is an ideal formula to transform you into an irresistible charmer.
22-Shining Ash Layered Bob with Dark Roots:
Finding the most suitable haircut for you is always a difficult choice. Facing the same problem? Here's the solution:
Get this shining ash layered bob because its best part is that it suits literally every lady out there. No need to worry about your face shape or color, just keep calm and go to your salon. You will finally achieve your hair goals.
23-Duotoned Pixie-Bob:
Ever wonder how Emma Watson slays not only men but also women with her fascinating looks. Here is the secret:
Layered Hairstyles are the perfect boosters to change your look. Consider this Layered Haircut. The appealing dual colored hair with a pixie bob is an all-new way of becoming a bombshell.
24-Medium Sized Shaggy Layers:
Being a style queen and not losing your hair length is pretty intriguing. Isn't it? Well, here is the deal for you: This Medium Layered Hairstyle is all that you were foraging.
25-Blow-Out Medium Length Layers:
Long hair can be a mess sometimes, especially when tangled. But if you are a woman who doesn't want to get rid of the jumbled hair at the cost of hair length, here is the resolution for you. The magnificent blow out is one of the sexiest Layered Haircuts of today.
26-Prolonged Tousled Layers:
This one is my personal favorite as it solves my thin hair problem so sweepingly. No wonder, it adds a remarkable volume to your hair and is the copybook to style your hair with Layered Haircuts.
27-Voluminous Layers for Straight Hair:
If you are blessed with naturally straight hair, now is the time to take the maximum privilege from it. It's remarkably epic in giving instant volume to your hair and is highly versatile.
If your sturdy hair is a mess instead of beauty, here is the savior of your day. Get an extremely hot and seductive look within minutes with this ravishing Layered Haircut. It will give you a fabulous experience and will go all perfect with your sexy looking collar bones.
28-Straight Hairstyle for Dyed Hair:
Have you dyed your hair?? If yes, then here is something really fascinating for you!!
Let's go with the straight hair to flaunt your new unique hair color as straight hair will highlight your dyed portion. You can also add fringes at the end to make your haircut look flawless.
29- Short Length Bob Haircut:
The most loving feature about this versatile haircut is that it requires less maintenance and hence consumes less effort and time from your hard schedule.
If your hair is curly, then simply grab a straightener and straight your hair and you will be all set for the rest of the day.
30- Top Glamorous Messy Bun:
This topknot is quite effortless and considered as the messy bun. You can opt this hairstyle at your workplace, in your home doing home chores and at any other place where you may find it convenient according to your taste.
No worries, if your hair is short or long. You can always go with this hairstyle. J
All you have to do is to strategically place hairpins for this hairstyle. The best part of this hairstyle is that it will take you 2-3 minutes.
31-Messy Different Layered Feathered Haircut:
Are you suffering from hair fall and have fewer hair left on your head? Then you can go with this haircut.
This Layered Haircut will give volume to your hair and change your attire by all means. No matter what your face shape is, it will perfectly suit you.
32-Straight Layers with Inward Fringes: (Bonus)
Now, if you are looking for a haircut that portrays you as a sweet innocent damsel, then stop looking for anything else.
Here is the best deal for you:
This hairstyle contains light layers and comparatively soft fringes. Those having a square or oval shaped faces can easily opt these haircuts and it will perfectly match with their face structure giving them a tremendous look.
Conclusion:
To look snazzy bold and slick is a need of time. Layered Haircuts can give you this leverage.
'One of the most important things about looking youthful is to have a modern haircut.' —Evelyn Lauder
There is never too late to have a haircut. Don't mind your age!!
Don't be resistant to haircuts. Let's be the game changer and allow the people to boggle on our styling. Let the crew of people opt your haircuts by your unique appearances.
What's the bottom line? Your haircut might not suit you. Well, your hair will not seize augmenting, it grows anyways.
Besides Layered Haircut can never be a bad choice at all. This article is a complete guide to choosing the perfect Layered Hairstyle for your hair length ranging from short to long. Now is the time to pick the one out of the lot and rock your day with it.
Life is too short to have boring hair after all.