Updos for Long Hair are the latest trending ideas these days
Looking for Updos for Long Hair? Are you tired of having your long hair down, which makes you feel mainstream and uncomfortable?  Are you out of ideas to make it look more glamorous?
Then do not go elsewhere because I have the exact ideas you have been digging for!
Having long hair can both be a hectic and a charm. If you are unaware of how to make it look more exciting, then don't be afraid as here I am to assist you!
Have a look at these amazingly brilliant go-to updos from the popular Meghan Markel's wedding hair to a simple top knot for your waist length hair.
These manageable and attractive looks are the trendiest you would like to wear on both: an occasional event and as your daily updo.
I assure you that you would die to try this out and have no regrets. You will not go by unnoticed, this is guaranteed!
Here we go!
19 Most Charming Updos for Long Hair to Try This Season
Marge Piercy says, '…I keep it long because I love the way it feels, part cloak, part fan, part mane, part security blanket.'
After all, we all know long hair is fashionably in and who would not like to style it with an edge! Whether it is a school girl or a famous celebrity, anyone would want to keep their hair up to avoid feeling hot and uncomfortable but would love to keep it trendy.
Tie up a top knot or a loose bun in just a few minutes and you're good to go! Anywhere, anytime!
Moreover, these Updos for Long Hair would not please you any less since you all know how easy it is to carry it.
Additionally, to gather more ideas for an amazing look, keep on reading! Here are mentioned – trends of 19 Astonishing Updos for Long Hair to amaze you.
1-      Low Bun for Busy Days:
Not having enough time to do an Updos for Long Hair? Yet you still want to look fabulous? I have the perfect solution with the 'less is more' trend.
Indeed, this classy, sophisticated and of course the easiest low bun is what you're looking for. Simply grab your hair towards the back, twist and fold into a bun. Then, use good quality rubber bands to secure and here you have it!
2-      High Updos for Curly Hair
Having curly hair is the best part when it comes to styling. Someone has quoted, 'Curls run the world.'
On your regular basis, you can look just as beautiful if you try on these high buns to frame your face structure.
Moreover, the tip is to loosen it a bit and pull out a few strands of curly hair. In no time, you will look glamorous and ready to go anywhere.
3-      Make your Braid into a Bun:
Another easy and classy look for your daily routine Updos for Long Hair is this trendy braid bun. As this is extremely easy and comfortable.
Finally, the little strands of your hair won't annoy you at work or at school or anywhere anytime! The steps simply follow as to tighten your hair into a sleek braid. Then twist and turn it into a bun.
Lastly, keep it tight and you can rush anywhere.
4-      Side Braids and Buns:
Undoubtedly, this latest trend has been so voguish that even famous celebrities like Kristen Stewart and Selena Gomez have tried these Updos for Long Hair.
Moreover, you will be amazed to see how graceful and elegant it turns out to be. Thus the tip is to loosen your side braid and to keep the bun low.
5-      Queen Style Donut Bun: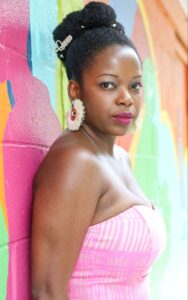 If you have thick hair, then you must know this Updos for Long Hair would turn you into a queen. Because, this sleek and bold hairstyle is easy yet so beautiful and classy.
You'd require a hair donut bun shaper, a rubber band and a hairspray (optional) to keep all hair intact.
6-      The Messiest Bun of All:
There is a famous phrase as, 'Messy bun and getting stuff done.'
In all ages, this Updos for Long Hair has been the best one to pull with any look. Whether it be your casual outfit or a beautiful short dress.
Also, you can make it in no time by just grabbing your tangled hair and twisting it into a bun in any position. For occasions, try out placing a few white flowers inside the bun to look stunning.
7-      Trendy Updo with a Hairband:
The beautiful Julianne Hough slew the 2015 Emmys with this simply gorgeous hairband Prom Updos for Long Hair.
I assure you girls, this one is the best! Tightly pull your front hair towards the back with the help of a hairband. Then use all of the hair on the back to create a bun wherever you want.
Plus, most favorite part is that you can use beautiful headbands and even ribbons as desired!
8-      Nicki Minaj's Famous Top Knot:
You would not wait to try this one out! Have you not seen how Nicki Minaj took the top knotted styled Updo for Long Hair to a whole next new level?
I promise you that you would look as stunning as Nicki looked if you follow these simple steps:
First, tighten your hair into a high ponytail.
Then, twist and turn the ponytail into a big and tight bun.
Now, use a thin comb to arrange all your hair.
Finally, spray your hair with a shine hairspray for the dupe of Nicki's look.
9-      Top Knot with Front Bangs:
Also known as the ninja bun, this Updo for Long Hair was worn by our all-time favorite Kendall Jenner.
The front straightened bangs are an addition to make the look hotter! Just pair this look with long earrings as that of Kendall's to cast charm spells everyone around you.
Thus, you got the show girl, you got it! Ready to slay everyone with the Ninja look!
10-  Ombre Hair Updos: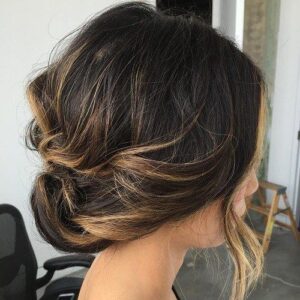 Going to a wedding? Having a prom night? I have the perfect look for your ombre hair! This look is created perfectly for your darker to lighter hair tone. Indeed, your hair will look on point with the curled up low bun.
Girl, want to show your hair color theme for this Updo for Long Hair? Then just make sure you keep your bun loose and low. And you're ready for the show!
11-  Twisted Updo for Your Twisted Days:
Having a bad hair day? I got you!
Don't worry about this, as the easy twisted look is here to rescue you in a wedding or wherever you want to slay the game!
It works on every kind of hair type and is just a 60-second Updo for Long Hair if you want to spend more time on your makeup.
Plus, I would suggest you to use accessories for the look, a tiny crown for the queen would just look perfect!
12-  Ariana Grande's Space Buns for You All:
Ariana's grande's cutest space buns with various styles have stolen the hearts…
Oh Ari, how can you manage to look so cute in this? Well, there is no hard and tough rule for this Updos for Long Hair for you to follow.
If you want to look as cute, just follow the steps below and recreate Ariana's look with a signature winged liner!
Use a conditioner to make sure your hair is sleek and perfect.
Brush out all the tangles.
Separate your hair into two sections from the middle. Use a tail comb for perfection.
Create pigtails on both sides of your hair.
Turn and twist into buns.
Secure with rubber bands and Bobby pins and you're ready to go!
13-  Bold Updo for Long Hair to Boost Your Confidence:
Do you have a meeting to attend? Do you want to look bold and smart? Try out this vintage beehive Updo for the day.
And I assure you it won't ask for much of your time but is perfect for your formal look!
It just requires backcombing and a bit of hairspray, but is totally worth it for the complete look. Thus, be the boss that you are with this Updo hairstyles for Long Hair!
14-  Twist it in a French Way:
Perfect for every occasion, this French twist is there to help anywhere! Even at your own weddings! You can easily pull this look in a formal or an informal look!
Moreover, the tip is to use fancy hair clips on occasions and curl out a few strands if desired. And you'd look stunning, it's my promise!
15-  Simple is Graceful:
Girl it's highly recommended to try out this gorgeous, easy side bun. Even Taylor Swift has worn the hairstyle to look radiant.
Having side bangs can be a plus point for this look. Just keep the side bun low and neat.  Plus, accessorize your hair with flowers to look like a princess! Furthermore, I recommend you to keep the look subtle with light makeup.
16-  Meghan Markel's Wedding Bun:
Are you still not over how beautiful Meghan, the Duchess of Sussex looked on her big day? Are you curious to recreate her Updo for Long Hair?
The low messy chignon has stolen the hearts. Here I am for the help, my girls! Follow these steps to look as stunning as Meghan.
Using a tail comb, separate your hair from the middle.
Back-comb the crown of your hair gently.
Secure your hair in a low ponytail.
Then twist and turn your ponytail into a loose messy bun.
Loosen the crown of your hair for a natural look.
Finally, pull out a few strands and spray hairspray over your hair for the final look
17-  Tumblr Style Updos for Long Hair:
I cannot tell you how many girls are dying to copy this backside French braid Updo for Long Hair since it gained fame from Tumblr. Do this one with a friend and take as many Tumblr photos as you want to.
Pull out the look with a cute little skirt and a bow on top of your hair to make it look fun! And there you go, ready for a fun day with your best friend forever!
18-  The 'Hurry Up and Save Me' Updo for Long Hair:
This perfect low braided bun is there to save you on a big day when you're feeling lazy. Turns out to be that it will look as glamorous and rich on you as the other Updos for Long Hair would.
Try out these easy steps if you're running late for your day:
First of all, gather all your hair into a loose low ponytail.
Then, loosen up the area right over your elastic band and pull your hair through it.
Next, tighten the pulled hair and braid it.
Now, pull the braid upwards and inwards through the gap.
Finally, secure with Bobby pins and you're good to go.
19-  High Buns with Fun:
This is the best look if you want to go for a different, yet edgy one for your big days. Plus, this might even help you win the crown on a prom night!
Because, the easy double side braid bun is a very rocking Updos for Long Hair for your big occasions. Thus the tip is to pull out curled strands of your hair to make it look stunning. Loose braids always look the best!
20-  Grandma's Dutch Braid Bun:
Is your grandma over and is insisting you let her tie your hair into a Dutch braid? Well, you think it's not so trendy? Don't break your grandma's heart and try out this beautiful bun for your evening look.
Let your grandma make your hair into a Dutch braid. Next, turn the lower part of the braid into a bun. Simply secure with Bobby pins and there you go! The 'Old is Gold' turned into a trendy new Updo for Long Hair!
Conclusion:
I bet you must have imagined yourself in all of these Updos for Long Hair by now.  Someone has very well said, 'Life cannot be perfect, but your hair can be.'
So what are you waiting for? Grab a few Bobby pins, a comb and whatever necessary and get started to look outstanding. After a while, you wouldn't thank me any less.