Medium to Short Hairstyles are a new sensation of the era!
Low maintenance, yet eye catching haircut options are what women of all ages and schools are looking for. The modern lifestyle of twenty first century makes it tougher to spend quality time on styling every morning.
Furthermore, going for short hair is also a tough decision as long hair is still considered as a symbol of feminism. In this regard, a length in between short and the medium is a perfect solution.
Such tresses are manageable yet long enough to manipulate as per choice and trend.
Irrespective of the hair texture, there are so many variables to play with to create a dynamic and different look every time. Bob, lob, shag, layered, wavy, curly almost all styles can be opted in very less styling time.
Remember, a haircut is one of the vital factors that shape your personality.
Hence, spend some time to get an inspiration from this rabbit hole of the trendiest Medium to Short Hairstyles presented below!
21 Best Medium to Short Hairstyles – Look More Stylish and Elegant Now
1.      Straight and Messy Hairdo:
If one has thin and naturally sleek hair and looking for very low maintenance Short to Medium Hairstyles for Fine Hair then, have a keen look at this one.
Hair is chopped at a length in between very short and medium. The ends are perfectly trimmed to communicate fine and polished vibes. Specifically for ladies with thin hair, this messy style imparts extra ounces of volume.  
Further, a blow-dry with a round brush makes it easy to imitate this extremely sassy look.
2.      Medium Bob for Thick Hair:
For ladies with thick and naturally sleek hair, this bob looks gorgeous. Instead of going for bangs, ask salon attendant to add layers which are brushed towards the back. It will give a lot of movement and flow to the style.
To make this Medium to Short Hairstyle sophisticated and classy, keep the bottom hair all at one length. Without much effort, this hairdo will help you to maintain a trendy as well as a chic look.
3.      Bob along with Razored Layers: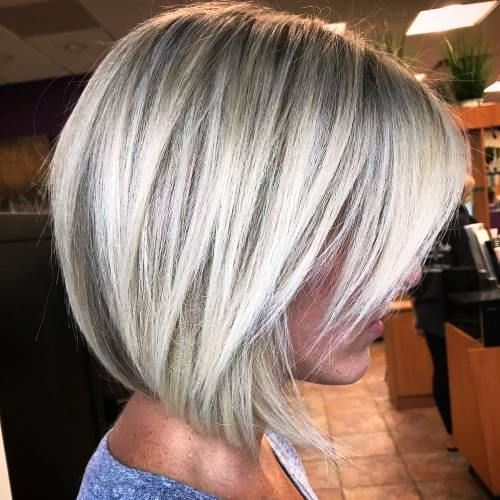 It's time to make tresses look more luscious by opting a razored cut!
Curly Medium to Short Hairstyles offer extra visual intrigue and movement if babylights and layers are incorporated at a right ratio. Either you have naturally curly hair or heat assisted ones, this haircut will look good on both.
To add a fun element, keep the face framing layers a bit looser and longer.
4.      Short to Medium Layered Cut: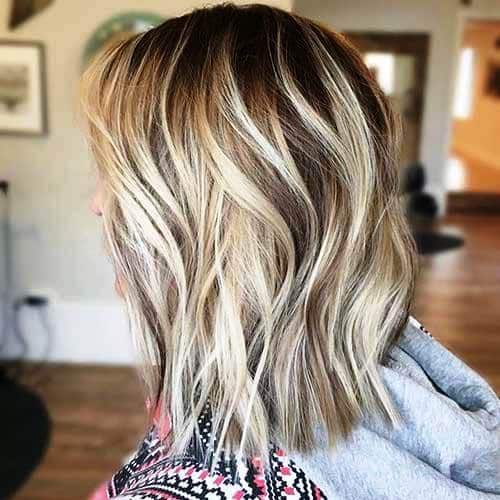 Such kind of Medium to Short Hairstyles are timeless and appear good on ladies of all ages. Furthermore, this sassy hairdo is adaptable to almost all kinds of hair textures. Overall, a unique and stylish look is put together within no styling time.
A simple dress with minimal makeup and accessories will look super chic with this hairdo.
5.      Wavy Bob:
It is hard to get an effortless and light look with very less styling time. However, this Medium to Short Hairstyle is a perfect solution if one needs to attain a sassy appearance with her super thick manes. It features few wispy layers to create an adorable bob style.
Furthermore, a very soft wavy texture is added to pronounce the look even more. You can add an extra movement by asking your stylist to keep the layers a bit shorter in the back with the choppy ends. The end result is no doubt worth keeping.
6.      Textured and Angled Medium Bob:
Younger girls and even women, can manipulate a traditional bob in a more appealing way by adding artificial textures. In such Short to Medium Hairstyles for Thick Hair, the tresses are kept at different lengths with jagged ends.
The techniques used here include point cutting, pointing, and slicing.
Because of the advanced cutting techniques, its usage is not recommended for very thin hair. However, the girls with super thick locks can do wonders with this hairdo. Furthermore, the use of a good quality spray is necessary to keep the hair damage as minimal as possible.
7.      Shaggy Medium to Short Hairstyles:
A shaggy cut with the length in between very short and medium along with a warm chestnut hair dye creates an unparalleled adorable look!
A light brown shade will help to add movement in this Medium to Short Hairstyle and prevent it from being too dull or boring. Whereas the layers all over the bottom will offer unpredictable styling versatility and movement.
Such soft look will never disappoint you in any event round the clock!
8.      Layered and Loose Locks:
Looking for ways to lighten up those thick and full locks of yours?
Feathered haircut like this Medium to Short Hairstyle is a nice way to go for this season. The layers will help to reduce the weight from all sides of the crown. On the other hand, it provides the necessary movement and shape.
So say goodbye to your overweight, bad hair days with this super gorgeous hairdo!
9.      Collarbone Blonde Hairdo:
Tired of carrying these lifeless blonde locks?
Then upgrade your style statement by opting this cool, collarbone shaggy Medium to Short Hairstyle. This blonde shag imparts a retro look and also a nice way of mixing things up. Try to go for haphazard, messy styling to create a more impactful image of yours.
The less maintenance time makes the running out of the door in busy mornings a bit easier!
10. Lob with Jagged Layers:
Such kind of Medium to Short Hairstyles having jagged layers create an edgy look in otherwise lifeless and boring tresses. Also, use of a statement hair color enhances the overall image created with this cut. The end result is an absolutely edgy and iconic appearance.
Additionally, this lob hairdo will not consume much of your time in the morning. Just apply your favorite texturizing product and you are ready to rock!
11. Ash Blonde Feathered Hairdo:
The key element in a feathered haircut is the addition of tons of angled layers. Such shaggy Medium to Short Hairstyles don't need to have those traditional choppy ends. One can go for feathered wisps bending towards the face to walk against the waves.
While styling, use a round brush to softly tease tresses at the roots to add an extra fun lift. From parties to official events, this look will help you to create a unique style statement every time!
12. Gray Razored Bob along with Bangs:
Just crossed 50 and looking for some sophisticated yet stylish Medium Short Hairstyles with Bangs?
Try out this combination of bob and bangs. Gray is no more a fear in the hair styling industry. In fact, this color both natural and dyed is so much in trend these days than ever before. This hairdo complements almost every hair texture and skin tone.
To add visual interest and to soften the angular face shape, add some bangs around the crown. The end result is a sophisticated yet edgy look for women over 50.
13. Funky Blonde Haircut:
For all the college girls looking for an easy to maintain funky hairstyle, this Medium to Short Hairstyle is a great choice.
Razored layers incorporated throughout the collarbone length tresses produce a noticeable amount of movement and flow. Blonde highlights add a pinch of softness which creates a pretty element in the overall look. It looks good on almost all face shapes including oblong, oval, diamond, and square faces.
14. Longer Hairdo with Blunt Bangs and Wispy Layers:
Bangs, no doubt, provide a nice way to accentuate the best facial features of oval and heart shaped faces. Blunt and thin bangs can surely take away the impact of a few years from the face in an elegant way. It not only covers the frown lines, but also exudes some youthful vibes.
Furthermore, add wispy layers to balance the blunt bangs lines scattered throughout the crown. For women who have just crossed the middle age, this Medium to Short Hairstyle is a gorgeous way to age gracefully.
15. Two Tone Layered Medium to Short Hairstyle: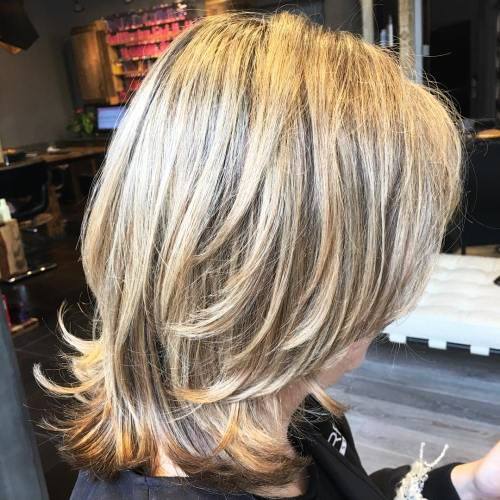 "In the world of beauty, messy doesn't mean a bad thing"
A messy look has been so popular in the past few years. It works so well for the ladies with thin hair as it creates a voluminous visual effect. These Short Medium Layered Haircuts consist of two-tone color dying, which make it unique and flawless.
For a unique and truly deconstructed effect, keep the hair product-free.
16. Collarbone Choppy Bob:
To add some edgy vibes to the beach tresses, try out a choppy and shaggy layered haircut like this. Keep the front layers a bit longer and add shorter layers in the back to create an extremely cool look. Loose waves make it a nice summer Medium to Short Hairstyle.
Use a curling iron to add an extra lift while styling. A good quality serum is a must to pose less heat damage to the hair.
17. Choppy Wavy Pink Bob:
To add some extra oomph to your Medium to Short Hairstyle, introduce choppy and wavy layers. Moreover, a cool color dye is vital to create a fun filled look.
The strawberry blonde and pastel pink is a beautiful and warm dye combination which makes this haircut more flattering and modern. Instead of going for a solid version of these colors, choose a combo of your choice.
Hence, it helps to impart dimension and movement in the tresses which will fall flat otherwise.
18. A shaped Haircut with Waves:
These days haircuts, having different lengths are hitting the style charts. Really drastic A-shaped Medium to Short Hairstyle looks so dramatic and fun filled. One can pronounce the style statement by opting for a unique dye color which is full of drama.
Keep the long manes in the front for an edgy effect. For ladies working in a fashion industry, this look complements the competitive environment.
19. Dark Collarbone Haircut with Highlights:
The best part of the shaggy Medium to Short Hairstyles is that they don't need too much of precious time. If hair naturally has movement and body, one just needs an air dry and haphazardly added waves with a curling iron to look flawless.
For sleek and flat hair, instead of air dry go for a blow dry to replicate this look. Like other haircuts, use of hair products including texturizing spray and mousses is necessary to maintain the right style. Moreover, a bright color highlight such as of violet dye is another main factor of this sassy hairdo.
In summers, choose a bright color, whereas in winter go for a nice, soft and warm shade.
20. Adorable Medium Short Shag:
This Medium to Short Hairstyle makes tresses look so good, isn't it?
This combination of brown, blonde, and caramel highlights inspired by tiger's eye is enviable, no doubt. To style it properly, wrap small sections around a clipless curling iron. Then spray any texturizing product. And finally, run the fingers throughout the loose wavy manes.
To keep the strands in position, use of Bobby pins will do the right trick.
21. Black Curls:
Mixing blonde streaks and dark hair is for sure bold. For ladies with cool toned skin, this super chic look is perfect. Blend this bold and unique hair color dye with a curly Medium to Short Hairstyle. The end result is a glamorous and effortless style which will turn the heads in any event you attend.
Loose beach waves are the main highlight of this hairdo which has the power to transform you into a style diva.
Conclusion:
"I am very easy going and low maintenance when it comes to my hair"
These days this is the case for many women and young girls. Because of the busy modern life, every female wants a hairstyle that is flattering as well as less time taking when it comes to styling. Short haircuts are often considered as a solution in this regard.
However, many of us don't want to go for a big chop. Hence, Medium to Short Hairstyles featuring an enviable yet easily manageable length are a great solution to keep the look feminine as well.
So, grab a look at these mesmerizing medium to short haircut options we have exclusively collected for you. Get an inspiration and grab your salon appointment right now! for more medium to short haircut