Short Hairstyles for Women create the eye-catching, sassiest, and low maintenance look which instantly goes higher on the style charts. There are so many options present to style up on the short hair that is less time consuming and effortless.
But, here is a problem, you know what?
Women, sometimes, feel low on confidence when they have short hair because they are unable to wear the hairstyle varieties as those do with long hair. Moreover, they get bored to wear the same hairstyles over and over again on their short hair.
But no worries at all.
As there are so many trendy hairstyles and haircuts that suit the short hair the most and are easy to style with the least effort.
Want to know and learn?
Just keep on reading below and get amazing ideas disclosed that have not been shared before yet. They all are the experts' opinions and suggestions. So do not miss the opportunity to look chic and try these 30 amazing hairstyle ideas at your first leisure!
29 Best Short Haircuts for Women to Try This Season
You are a short hair type of girl or tired of your long locks, whatever is your reason to choose the short length, a number of sassy Short Haircuts for Women exist that will style your hair like a star.
From lob to bob, pixie to bangs, and from the fringes to short locks, you can get a trendy idea for your next makeover by reading this article.
1.      Tapered Bowl Short Haircut for Women:
Some of the biggest names of fashion and film industry are rocking the style scene by this haircut and showing how incredibly edgy and chic this style may look. The adorable, boyish cut consists of long and shaggy layers at the top with the buzzed dramatic bottom.
In fact, it looks completely fabulous when hair is slightly tousled and super sleeked. So, don't waste time and go grab a model-like look with this one of the super cool Short Hairstyles for Women.
2.      Amber Bob with A-Line Shape:
The styling of Short Hairstyles for Women is a little bit tricky. As it is the key element to choose right styling technique while playing with the short hair.
However, you need to adopt a moderate level, as overdoing will create a complete frizz and no styling will appear flat.
Hence, this A-line bob is all set to give you a moderate look with no styling stress. Layers are incorporated for extra volume and gradual length gives a depth as well as shiny vibes.
3.      Two Toned Pixie Short Haircut for Women:
Women with thin and short hair need the extra volume that only a right haircut can provide. In fact, a two-toned stacked pixie is an elegant Short Haircut for Women that provide you with the extra lift at the back of your scalp.
Thus, the slight subtle highlights and longer side bangs, make this short hairstyle even more interesting.
4.      Silver Bob with Balayage Swoopy Layers: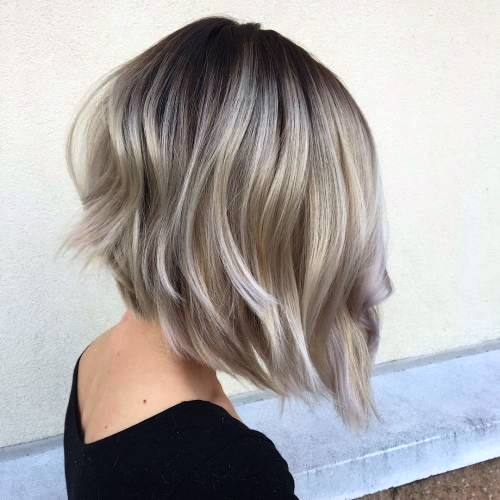 Layers incorporated in a short bob provide texture even to the flat and thin hair. By selecting an inverted bob, you can easily create a desired movement with swoopy layers.
Moreover, this one of the voluminous Short Haircuts for Women gives a perfect round shape and locks will appear thicker.
So, this is a nice option if you are looking for Short Hairstyles for Round Faces which will create the elongating effect.
5.      Long Pixie with Fade Roots:
Cut your hair till jaw line into a pretty pixie and to add dimension, use your favorite color highlights which will cover your surface layers. Plus, make the layered highlights a bit choppy so that hair color appears more significantly.
Hence, this one of the cutest Short Haircuts for Women will create the desired visual thickness and depth.
6.      Messy Short Haircut for Women with Twists:
Although short bangs are not so popular these days. However, if you choose long bangs with a side-swept inverted bob then the hair will fall on your face in an adorable way.
Instead of pinning the hair, add twists which blend with the wavy hair.
Consequently, this haircut will create a cute feminine look which works well for all informal events you are planning to attend.
7.      Messy Blonde Short Hairstyle for Women:
You can rock the bedhead look even with your thin and short hair. With a short and messy bob, style your hair in the tousled, loose, and wavy way.
Then, use a honey blonde color dye to pair with this style. And you are all set to say goodbye to bad hair days with this chicest Short Hairstyles for Women.
8.      Short Cut with Red Wispy Layers:
By adding wispy layers with very fine texture, you can create an absolutely elegant look. The red base color is used in this look. Whereas, to add some extra dimension you can apply caramel highlights. So, this one of the most elegant Short Hairstyles for Women imparts the appearance of thickness to hair as well.
9.      Stacked Choppy Short Bob for Ladies:
No doubt, the classic short cropped bob is one of the most evergreen Short Hairstyles for Women. Impart stacked layers and keep them till chin length at the back side.
For anyone with a round face, this haircut with a rugged texture and an accurate shape is super great.
10. Sleek Bob Short Hairstyle for Women:
Do you want a simple and clean look?
For this purpose, this sleek and Short Haircut for Women is a right choice in this regard. This hairstyle also adds lots of volume along with a glamorous look. Moreover, you can create mysterious vibes by adding blonde shade highlights on the darker roots.
11. Textured Short Bob with Bangs:
A right blend of layers and bangs is able to create a dimensional and edgy look with short and thick hair. Indeed, this hairdo uses both of these key elements.
This style consists of super short hair, but still, it manages to convey a complete feminine image. For this reason, this is a nice pick if you are looking for Short Hairstyles for Thick Hair.
12. Soft Waves Short Hairstyle for Women:
While choosing the best Short Hairstyles for Women, always go for the styles that will play with the natural texture of your hair. Truly, this short haircut is based on the natural wavy texture of your hair. Plus, the addition of light highlights will add a fun factor to your personality.
13. Short Choppy Pixie Cut:
This boyish inspired haircut is all set to create a cool and funky image of yours. Even if you have not much hair on your scalp, then still this Short Haircut for Women will manage to convey a luxurious and voluminous look of your head.
Plus, the addition of side swept feathered layers is a cherry on the top.
14. Messy Pixie Short Hairstyle for Women:
Multidimensional layers are carefree and full of fun. This haircut is a perfect match for your free spirit kind of nature. For an artistic endeavor, for a summer season, and for some fashion event, this style is a right pick. It looks good on women of all ages.
To tousle the locks at the right place, use hairspray or a gel. This is a must try option if you want Short Haircuts for Older Women.
15. White Blonde Short Bob:
This is one of the coolest Short Hairstyles for Women. This short bob imparts an elegant look, thanks goes to piece-y layers, rounded shape, and bangs involved. The white color highlights give a modern touch to this conventional short bob.
16. Choppy and Short Hairstyle for Women with Blue Dye:
This era is a right time to play with colors to add some extra body and movement to your hair. These tousled and teased layers are able to create a funky and super cool illusion. Also, the blue strands around the face take the charm to the next level.
17. Blunt Short Bob:
Bob is such a timeless hairdo that falls fit for the women of every age. This haircut is a striking combination of long layers and blonde highlights. If you have sleek hair, then ask your salon attendant to use a razor while cutting to generate the shaggy ends.
18. Lavender Bob Short Hairstyle for Women:
Fine hair is not a con if you really know how to style properly. Ask the stylist to add soft layers across the head to enhance the cool image of this lavender Short Haircut for Women. Layers are distinct yet blended to create a fine image.
19. Short Hairstyles for Women with Flicks:
If you are not still ready to have a short pixie cut, then try out this short to the medium luxurious hairdo. This haircut has tousled ends, which touch the jawline. Indeed, this one of the most alluring Short Hairstyles for Women looks flattering even for thin hair type.
20. Super Hairdo with Long Front Layers:
If you have straight hair, then remember this style when you visit your hairdresser next time. This layered haircut along with relatively longer side swept bangs is quite adorable and very easy to maintain.
Plus, the addition of blonde highlights along with darker roots creates a dimensional strands appearance.
21. Tousled Short Beach Bob for Women:
Whether it's the breezy feel, a low maintenance factor, or an effortless color, this short tousled bob just never goes out of fashion. Pair it with a casual outfit, smoky eyes, nude lips, and minimal jewelry to get the full effect.
Hence, this is one of the top picks Short Hairstyles for Women for casual routine.
22. Asymmetrical Bob for Short Hair: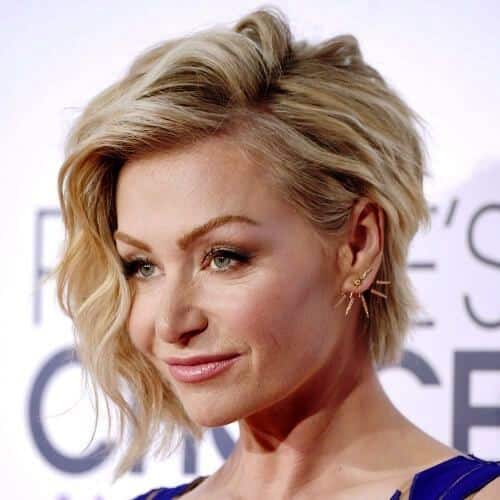 This is one of the brilliant Short Hairstyles for Women with thin hair. This makes your hair look super thick. Also, if you have a round face, then layers around the face look amazing. Uneven length of layers creates a slim image of your rounded face.
23. Messy and Sassy Short Pixie:
A great way out to bring drama and life to your flat hair is to go for a long pixie. Spice up this hairstyle with long one-sided bangs and razored ends. Amazingly, this haircut looks flattering to all types of face shapes. Pair it with glasses, and get a perfect office look!
24. Short Brown Bob Cut with Baby Highlights
Short Hairstyles for Women are sometimes difficult to style. However, use a perfect blend of side layers, baby highlights, and a hair mousse to say goodbye to bad hair days. Your hair will instantly transform from disappointing to dreamy look.
25. Short Undercut Pixie for Women:
Undercut technique is a smart trick to build volume in your hair. If your hair is dense at the top and thinner at the ends, then this is a smart experiment you can try out with your hair.
Moreover, add blonde dye to create some drama factor in this one of the most adventurous Short Haircuts for Women.
26. Dramatic Silver Short Pixie:
This sweet, adorable, and sassy pixie is a super cool choice for ladies looking for a model like style statement. Add grayish color tone to pull off a perfect style. Indeed, this one of the sassiest Short Hairstyles for Women will turn your head in a classy way possible.
27. Summer Highlights and a Short Bob:
This lovely bob is a kind of Short Hairstyles for Women that can be worn round the clock in every season. The summery and bright color addition will allow it to wear in the sun-kissed days. Whereas, the light textures will make it a perfect winter choice having full drama and depth.
28. Spiky Chic Short Bob for Women:
Be bold and dramatic with this spiky chic short bob. As this hairdo is done asymmetrically with spiky texture to give a new look. A variety of movement and abundance of angles associated with this hairdo are just full of glam you need to wear in the fashion events.
So, this is a smart choice if you are looking for Short Hairstyles for thin Hair.
29. Short Layers with Sleek Hairdo:
Short hairstyles with sleek hair type are considered as super easy to style in the fashion world. A simple, clean, and layered bob is easy to dry and style. In a nutshell, this hairdo is a dream of all lazy girls out there.
Also, tuck the hair behind the ear to convey a soft girlish image.
30. Funky Undercut Pixie for Women:
To showcase your adventurous and funky personality, pixie cuts are just the right option you can experiment with. If you have enough confidence, then try this blend of high spikes and an undercut.
This coolest Short Hairstyles for Women require intensive styling so make sure to carry hair spray along with you. This hairdo gives a dreamy appearance to those women working in fashion related fields.
Conclusion:
If you are looking for some change in your style and appearance, then it is the right time to have a short haircut. Short Hairstyles for Women can be sassy, sophisticated, and impart a lively look to your personality.
The best part is that they can be as edgy as you want. It doesn't matter which hair type you possess, either thick or thin. They just look adorable to every type of hair. The sky is the limit for what styling you can achieve with the short hair.
Either you need some funky or a sophisticated appearance, I have listed a number of Short Haircuts for Women above. You can choose the right option as per your taste and get your next makeover. you can watch more hairstyle