Prom Updos for Long Hair are considered as the best choices to age gracefully!
If you have long hair and you do not work on your Prom Updos for Long Hair…
It may ruin your overall look!
Or…
Fewer chances of getting the crown!
Indeed, prom is a once in a lifetime experience. Because, every queen glams up to make this beautiful night even more memorable. Everything goes on point, but don't forget hairstyles!
Are you worried that your long hair's not co-operating with you, and you want it to be at its best? Plus, are you unable to choose a hairstyle which gives the lushest, and coolest look with your dress?
Well, do not worry at all as it will give you wrinkles at a very young age! I got you…
As, I understand and this is why I have got you the 25 Most Dazzling Prom Updos for Long Hair. Give it a read and thank me later!
 25 Most Wanted Prom Updos for Long Hair to Try Right Now
As you don't have a plenty of time, therefore, you should try and choose the best hairstyle for yourself.
 "It is one of those strange and magical nights where you are never quite sure what is going to happen."
-Angie Combs
1.      Prom Updos for Long Hair with Braids:
Undoubtedly, braids are always classy, easier and less time consuming. Because, you can pull your hair together into a messy bun with a side braid easily.
Oh, that's going to look so on point girl! Indeed, it goes with any kind of facial structure, and looks even more beautiful if you are wearing a gown. So, try this one of the best Prom Updos for Long Hair right now.
2.      Messy Braids with Flowers Looks Beautiful:
As you know, having long hair is a good thing because you can create something magical out of it! You can make messy braids and put some cute flowers on your own. And then pin up the braids into a beautiful updo. Simple, no?
3.      Trendy Prom Updos for Curly Hair: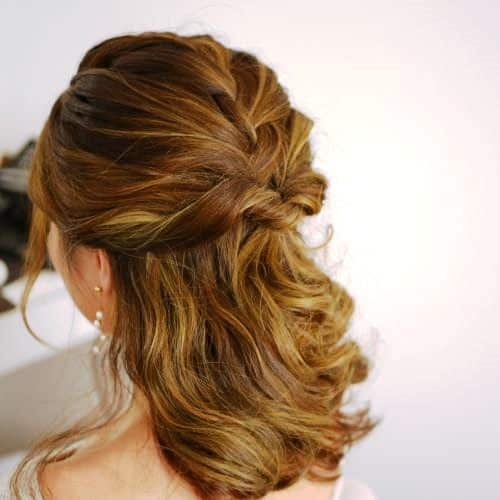 The most wanted and trendiest of all Prom Updos for Long Hair is a messy bun made with curly hair. Amazingly, it looks enchanting with any dress you wear.
Do not panic if you don't have curly hair. Just take out some time and curl it, next you either go with a side braid and create a neat loose bun or leave out some curls and make a messy bun.
4.      Cornrow Updo is a Fresh Updo:
It is totally okay to try something new when talking about the Prom Updos for Long Hair! The African Cornrow Updo is the one unique and sassy. All you have to do is put a little effort and make cornrow braids.
You will need someone to help you out, but the effort pays off after all. This hairdo can go on with messy buns, high buns or side bun.
Short dress + Cornrow Updo = Hot Chic
5.      French Twisted Updo to Look Decent:
Searching for a decent, and neat updo? Well, it's French Twisted Updo! This is the easiest, quickest and the most elegant hairdo. All you have to do is:
Sweep all your hair to one side.
Next, grab a pin and put it on the other side (to make it in one flow and grip).
Now, apply some hair spray, and brush gently.
Then twist and roll your hair up.
Finally, apply pins to hold them up and a smooth finishing with a brush.
6.      Crown Braid with a High Bun:
Hey, don't forget you are already a queen so why not wear a crown already?
Girls, this is the most classy, and magnificent of all Prom Updos for Long Hair. As it goes with long and short dresses. Plus, it looks stunning with Smokey eye makeup, so what are you waiting for?
7.      Ballerina Bun is just a 6 Minutes Task:
Um, it isn't that difficult after all! You want to look simple because you got a heavy gown to show off?
Well, the ballerina bun is the super-duper idea then! As it looks jaw dropping on slim faces. Girls, do not miss the opportunity to show off the fancy gown with light makeup looks.
Hence, you just have to tie your hair in a way that looks both sassy and simple without wasting your time. Therefore, Ballerina Bun is best of all Prom Updos for Long Hair.
8.      Loose Updos are More Romantic:
Want to add some spice by looking drop-dead gorgeous? Well, it's all natural and the most beautiful updo ever. As it looks fantastic with a fancy clip or a brooch.
"If I want to knock a story off the front page, I just change my hairstyle." ― Hillary Rodham Clinton
So what are you waiting for? Try this updo today!
9.      In Vogue Fishtail Updo:
Indeed a lush hairdo for a night out! All you have to do is make a side fishtail following with a normal braid, and setting pins with hairspray. Hence, you are done, you'll just have to make a bun. All set to go! So, enjoy this one of the most gorgeous Prom Updos for Long Hair.
10.  Dutch and Side Braid Updo:
No doubts, a fancy hairdo with an elegant dress and dark lipstick is a perfect combo! Prom night is one of those glorious nights of your life, so don't miss this chance and go for the best!
So, you can simply work on the braids and pull off a high bun. Or loose bun too, maybe.
11.  Simple Hairdo Saves the Time:
If you are running out of time and you have no idea what to do with your long hair, then it is time to show some creativity! Simple hairdo is just a 5 minutes task and can make you look trendy and is one of the most common Prom Updos for Long Hair!
All you have to do is:
Firstly, create a messy bun.
Secondly, leave some hair strands out and curl them.
Plus, you can also cut side bangs, as it will look fabulous!
12.  Black Hair Updo: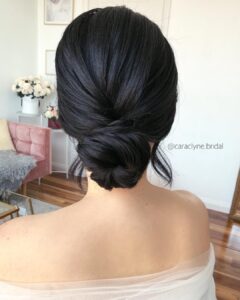 Well, no need to worry if you don't have blonde hair. Every hairdo suits the black hair! Though the hottest ones are the simplest:
How?
Make a messy side bun with a French braid.
Or,
Messy bun with a French braid dyed in any other color? Ah! That'll be perfect among the Prom Updos for Long Hair.
13.  Blonde Hair Updo:
Just like every hair updo suits the black hair, it goes for blonde hair too. So don't worry at all. The most Beautiful Updo is the one with fringes and a high bun!
BUT don't mess up with your hair before knowing what face structure you have! Give a quick search on what kind of fringes will suit you.
14.  Loose Strands Bun in 60 Seconds:
It's just a 60 second task! All you have to do is:
Use pins to grab hair and make a loose bun.
Some spray.
Leave some strands out.
It will definitely make you look gorgeous with some dramatic makeup!
15.  Donut Bun Updos Looks Like a Donut on the Top:
All you have to do is grab a bun maker band from the nearest shop and make a bun using it. As it is the simplest one and gives you the vintage look! Plus, it gets super classy if you take on a vintage look with some fancy jewelry on!
Hence, you can make it look fancier by making a bigger bun. After all, it's your night!
16.  Graceful, Stylish Bun to Grab the Attention:
The lower the bun, the more graceful it'll look! Try and make it a little messy. Pin some fancy clips to make it look stylish.
17.  Hottest Upside-down Braid Updo: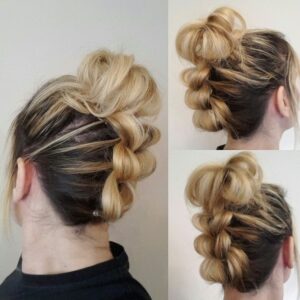 Try something new this year! When everyone's pulling on with front French braids bun and common Prom Updos for Long Hair while you can pull an upside down braid bun!
One of my favorites and unique of all. A little practice would make an outstanding out-look.
You don't have to worry at all, just follow the simple steps below:
Flip your hair upside-down and start making a normal braid.
Next pin the braid once it's made to avoid messing it up and to keep it neat.
After this you will have to tie a pony tail and then create a bun out of it!
All done. Simple. Sassy. Creative.
18.  Wispy Braid Updo to Make Everyone Go Gaga:
Another unique hairdo among the Prom Updos for Long Hair, which will make you stand out of the crowd!
Make a simple side French or fishtail, and pull the edges until the braid is all flat. After that, you just have to make a lower messy bun and you are ready to go! Don't forget to pin up the braid edges, else it'll give a messy look.
19.  Indian Updo:
Well, if you want to try out something really out of your normal series of hairstyles, then why don't you try some cultural updos?
Indian Updos are graceful and attractive and can be included in the list of Prom Updos for Long Hair!  The most attractive is a little bit of hard work but not impossible!
Ask your helper to practice upon you, so that you know how to manage. Just follow these steps:
You first have to leave some hair strands out and tie a pony tail.
Next, you just have to make a kind of the donut bun and make it neatly, so that it will be easier to pin up the rest.
Finally, you will take the left out hair strands and roll them into a flower shape and pin up onto the bun.
You are all done, just put some hair spray to protect the beautiful hairdo. Also, you can use fancy clip to pin up those strands. Will make you shine!
20.  Curly Side Twist Bun:
Well, just as some celebrities leave on some trends; they are followed and updates. So, one of the popular trends was a side shaved off, but now there are several updates too.
Make your look delightful by twisting your one side of the hair. Pin it up and curl the rest. Now just make side bun opposite to the twisted hair. In the end, grab that twisted hair into the bun.
Additionally, make sure you pin it up accurately and use a lot of hair spray so that it's not undone.
21.  Retro-style Updo to Give 90s Look:
Tired of all new trending updos? Well, there is an idea! Let's just use some of the ancient looks among the Prom Updos for Long Hair. Much retro, huh?
1960s Big bouffant is one of the most famous and the poshest hairdo. As, it is simple and looks extremely graceful with dark colored dresses.
22.  1940s Gibson Roll:
You might want to give a touch of some royal and 60' touch, so here's this hairstyle from 60s' but not so old fashion.
Indeed, it is simple and elegant. Quite glorious in Prom Updos for Long Hair. Moreover, it works out with every dress you wear and any kind of makeover.
23.  Waterfall Braids with Loose Bun – Absolutely Amazing:
Here's another astonishing look of the year! Yep, it looks fantastic once it's done.
So, you may have to ask your stylist to practice on you before as it requires neat work. It looks beautiful with boat-neck gowns and light makeup.
Moreover, you can put some beads to make it look even fancier.
24.  Messy Top Knot:
Sometimes it gets boring to make the same hairstyle on thin, long hair. But trust me, this updo is one of the gems. Among all Prom Updos for Long Hair it's kind of the most delightful.
Once you learn and make it, you'll grab the attention!
Just grab some pins.
Then make a high bun.
Left out strands? Well, use Bobby pins and put all the strands together into the bun.
Looks like a little nest? Ah, no, it's super cute!
Hey, don't forget to use the hair spray while creating this awesome look!
25.  Floral Updo
Love the Disney Princesses' looks. They are the simplest and the cutest ever! Looks like one belongs to a fairyland.
Oh, there's a look you might love! Not only you, but your partner as well.
You have to pick out your favorite flower, with some amazing scent and fresh. But not just one, rather many to fill up your whole bun!
Sounds crazy? Oh no, it is super cute, especially the little flowers give the fairy-like look.
You just have to tie a loose bun and with the help of your stylist put in the flowers onto the bun.
Moreover, you'll have to be extra careful while doing this, so it will be preferable if you do it on that minute before leaving!
26.  Flower Crown Updo: (Bonus)
Here is another floral look which will make you look like an angel on the earth! Oh, if you are wearing light pastel color or white gown/dress, then this is the best option for you!
This hairstyle will not only make you look different but also artistic and refined. As it is one of the most fetching
Prom Updo for Long Hair.
You just have to make a rolled bun and leave some curled strands out. Once you are done with fixing and spraying you will need a flower crown. (It is available everywhere and if not, then there are several DIY videos to create your own!)
Just place the crown on your head and pin it, next the strands you left should be pinned up in a way that they merge with the crown!
And you are all set to go, Princess!
Conclusion:
As it is quoted by Aishia Good Hair Mag,
"Treat your hair like a Science lab… EXPERIMENT".
Of course, one should never give up on a random hairdo when you have the most dazzling updos available!
So, these are the best and most wanted Prom Updos for Long Hair, so don't miss your chance and try as many as you can because you won't get another night to show your loveliness!