Short Bob Hairstyles have been in fashion in one form or another for decades. The short bob is a versatile and timeless haircut that a woman with any face type can wear.
With the tons of fresh and modern takes, one can customize the Very Short Bob Hairstyles to match her personality.
Short Bob Hairstyles are the way to boost your whole personality in a unique way. One can add color, dimension and body of one's own choice to enjoy the taste of Short Bobs.
Many well-known celebrities and models seem to wear the short Bobs and this kind of hair can suit almost every face shape and personality with a little customization.
So, what are you waiting for?
If you are a bob lover, do not miss out the word given below! As, there are 29 super hit ideas to upgrade your look from dull one to a fascinating one in minutes!
Here we go to take a look up on how to alter your appearance positively with the least effort!
29 Short Bob Haircuts to Inspire Your Upcoming Makeover
Whether you are a teenage college student, a working woman, a rocker with full of attitude, or an adult party freak, a short bob will give you complete freedom with tons of versatile options to make your style statement.
Have a look at below mentioned 29 hair styling options – the most inspiring Short Bob Haircuts to gain insights on which cut suits your personality.
1.      Messy Short Bob with Blonde Highlights:
The Modern Short Bob Haircuts are a lot different from what they were in the past. Similarly, the trendy blonde color is no more consisted of a single and solid tone; instead, it has been transformed into an ash blonde color having lowlights.
Hence, this messy short bob is a blend of modern graduated messy bob and ash blonde lowlights having air-filled strands, which looks quite amazing!
2.      Tousled Short Blonde Bob:
Are you a high school student and looking for a cool haircut? Go get an absolutely alluring experience with a tousled short bob hairdo.
By keeping uneven and edgy ends with relatively longer strands, a cool style with a lot of attitude is created.
So, keep the natural hair texture and use bedhead styling serums to gain a cute look. Hence, this is one of the best Short Bob Hairstyles for teenagers for a cool appearance.
3.      Blonde Balayage Short Bob Hairstyle with Darker Roots: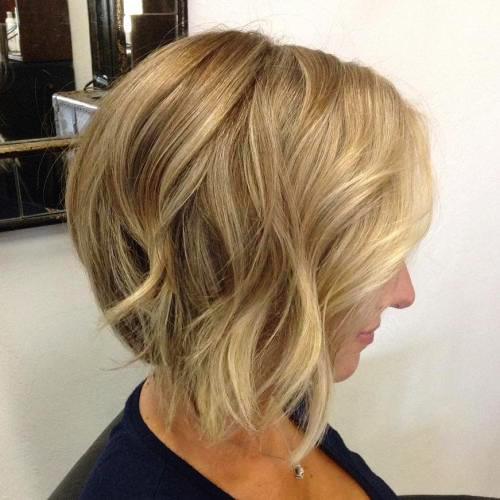 Short Bob Hairstyles with choppy hair ends are quite trendy and chic, but some may consider them a bit flat.
But playing with the right blend of colors can create an absolutely stunning look such as it is developed in this balayage blonde highlights with the dark black roots haircut.
Thus, this cut brings movement and texture even in sleek and straight hair.
4.      Bob with Scrunched Waves:
A short bob with scrunched waves is super easy to style with very low maintenance. By using texturizing serums or sprays, create natural-looking waves on the hair. Plus, a side-swept style is also a nice option for such breezy short bob haircuts.
5.      Asymmetrical Short Pixie Bob:
To get a fashionable look, one of the chicest eccentric form of Short Bob Hairstyles is asymmetrical pixie bob. When you go to your stylist, ask her/him to impart the desired degree of alluring choppiness to add texture and movement to the flat hair.
6.      Choppy Stacked Short Bob:
The choppy short bob upgraded with a soft color dye is a super easy style to create a feminine as well as elegant look.
Additionally, to get a carefree and shaggy style, layers are tousled and stacked at the back side. Hence, this one of the free-flowing Short Bob Hairstyles creates a softer image in an effortless manner.
7.      A-shaped Sleek Short Bob Hairstyles:
A-shaped super sleek bob is one of the traditional Short Bob Hairstyles. However, by adding a bright color of your choice, a complete funky look can be created so easily. The colored streaks add dimension to the cut as well as scream funky and chic.
8.      Beachy Angled Short Bob:
The addition of some soft beachy waves and platinum blonde dye with darker roots transforms a conventional angled short bob into a creation of absolute summer glamour.
Hence, it looks absolutely alluring and chic. A woman with any age group and face shape can try this one of the chicest summer Short Bob Hairstyles.
9.      Short Bob Hairstyles with Orange Dye:
Short Bob Haircuts give you the freedom to experiment with texture and color of the hair. This short bob with orange dye is nice looking and trendy.
Simply, use caramel and burgundy, silver and golden brown, or any other striking color combination which comes to your mind.
With this shorter length, it is easier to pull off darker and bolder colors with absolute elegance.
10. Brunette Short Bob with Layers:
Short Bob Hairstyles give a youthful and elegant aesthetic to women of any age. To be sure, one can never go wrong with a single length, solid color hairdo.
Because the layers build lots of volume, and lift up the hair roots. For this reason, this haircut is particularly stunning with single tone darker color shades.
11. Sassy Feathered Short Bob with Blonde Highlights:
Getting feathered hairdo is a smart choice for thin hair type. For Short Bob Hairstyles, razor cutting technique adds necessary volume and texture. The swoopy and concave styling complements feathered short bob haircut the best.
12. Bold Bob with Dimensional Waves:
Larger waves along with a combination of bold color dye impart a vibrant aesthetic to your personality. Simply, put a shade of your choice, such as dusty pink, platinum blonde or any other for a striking visual feast.
Hence, such bold style shows off dimensions wonderfully.
13. Sassy Marsala Short Balayage Bob:
For sassy women, a short bob with a passionate balayage highlight makes an extremely powerful style statement. As, this haircut is itself quite simple, so choose a vibrant color combination to pop. Wondering which color to put on?
Just decide a color based on your skin tone which is cool, warm, and natural.
14. Bob with Stacked Sides and Bleached Ends:
The easiest way of imparting a sharper look to a conventional bob is by stacking its sides. With a defined and clear outline, you will look fashionable every time no matter what dress you are wearing.
Furthermore, bleaching the ends will pronounce the image of this one of the trendiest Short Bob Hairstyles.
15. Brown Inverted Short Bob Hairstyles:
Medium brown color is an amazing dye when it comes to hair styling. As the tone of this color is medium, neither too ashy nor too warm. So, this is one of the most natural looking Short Bob Hairstyles for women of every age.
For this reason, this cut makes your hair look thicker and healthier when styled by hair serum or spray.
16. Curly Blonde Short Bob:
One of an elegant way of creating a feminine look with Short Bob Hairstyles is to go for loose, big curls. You can create this look with a curling iron or a barrel wand. Furthermore, tousle the hair ends to give a more natural image.
17. Messy Curly Short Bob Haircut: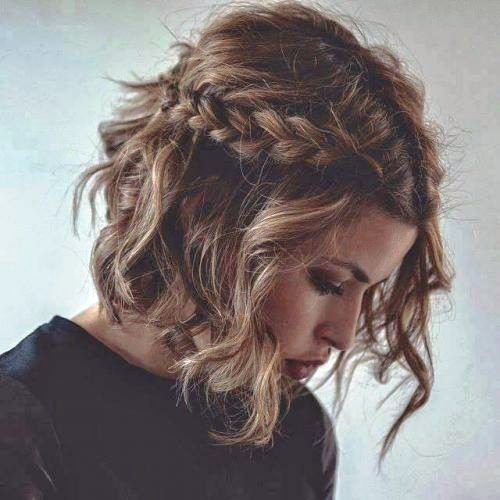 Messy short bob with curls creates a very presentable look in an effortless manner. Incorporate miscellaneous layers to add texture and movement to the style. Furthermore, a stunning colorful dye addition, matching your skin tone will create a stunning contrast effect.
18. Wavy Blonde and Chocolate Short Bob:
Two-tone Short Bob Hairstyles are too trendy nowadays. They create an absolutely adorable girlish look. If you are planning to have one of a double tone Short Bob Haircuts then, blonde and chocolate make a cute pair.
Loose waves add the desired dimension to the style. Whereas, a side-swept cut amps up the funky factor. Hence, wavy blonde and chocolate short bob haircut are all set to create a feminine as well as funky look for you.
19. Messy Short Bob Hairstyle with Bouncy Feathers:
Looking for a bouncy effect in your hair? Try a short bob haircut with the enviable amount of bang gained through proper layering, side stacking, and noticeable angling on the ends. If your hair is of medium textured and thick nature, then this short bob hairstyle is for you.
20. Super Short Bob Haircut with Layers and Undercut:
This short bob haircut is pretty, delicate, and adorable. The very blunt, short unicorn layers are arising from the pixie undercut. As if this cool contrast is not enough, then an angled undercut can be added to the chic mix.
This one of the Super Short Bob Hairstyles is for sure going to leave an impact in the local club. Moreover, it also goes well for the women working in the most creative environments such as in fashion fields.
21.    Short Steepy and Angled Bob for Ladies

If you are blessed with super thick hair, then this is one of the must-try Short Bob Hairstyles for dense hair.
The lowlights and highlights create artistic texture and dimension for the straight strands. Moreover, the steep layers with one side longer than the other are assembled gracefully in a free-flowing and smooth style, making this short, stacked bob appears like a wonder!
22. Short Crumpled Pixie Bob:
To impart a party-perfect aesthetic to Short Bob Hairstyles, add tousled waves. The crumpled, loose curls are responsible to bring the bombshell volume and texture to this pixie bob.
Plus, to make an elegant and a classy style statement, blend dark and dense base with balayage highlight.
If your calendar is full of club events and party dates, then get a salon appointment to grab this party-perfect short bob look now!
23. Wispy Bob for Short Hair:
By bumping the hair ends, a texture and dimension can be achieved in the short bob. The end result is the curls which are wispy in nature. Such curls impart tons of volume to the layers all over the scalp. This is overall a fresh and flirty hairdo.
24. Champagne Blonde Short Bob Haircuts:
Cool, solid-toned blonde shades are on the top of the trend list because they are soft as well as edgy at the same time. From deep to pale, these shades flatter many skin complexions. Because this color is too light, adds volume and visual contrast by having darker roots.
Moreover, use straightener or iron to get perfectly sleeked hair. This is one of the most natural looking Short Bob Hairstyles that goes so well with both the formal and informal events.
25. Shaggy Blonde Short Bob for Fine Hair:
Want an easy to manage as well as messy look? Choose stacked or graduated layers in a long bob or lob. To get the most out of the shaggy hairstyle, add wavy texture in your fine thin hair. These Short Bob Haircuts are for sure not much time taking in your daily busy routine.
26. Short Bob Haircut with Side Bangs and Layers:
The bangs and layers go well with the short bob for thin hair. To frame one's face, side-swept bangs and feathery layers can be gracefully added. For refreshing highlights and to further brighten up the look, add your favorite color dye.
Hence, these Short Bob s are capable of giving you an oh-so-elegant look.
27. Concave Bob for Short Hair:
If you are looking for Short Bob Hairstyles for Fine Hair, then this concave bob can be a valuable consideration. As a concave shape is incorporated into the classic bob style. Keep the side bangs a little longer in order to further elongate the hairstyle.
For a dynamic and modern effect, create a two colored contrast.
28. Box Short Bob Hairstyle for Thin Hair:
Are you looking for a feminine hairdo to build volume in your thin hair? Then try this soft hairstyle this summer. The boxy haircut gives body and texture to your static, thin hair. Moreover, further lowlights and highlights blend creates an alluring contrast.
Hence, this one is of the best voluminous Short Bob Hairstyles.
29. Short Chin Length Bob with Face Framing Layers:
This haircut suits very well on thin hair demanding some volume. This short bob with face-framing layers gives the appearance of relatively thicker hair.
A jet black color dye along with light brown highlight works well to create an elegant visual contrast.
Thus, with this hair length that touches the chin, you can style free and big!
Conclusion:
The timeless Short Bob Hairstyles are low maintenance and fairly decent solution for women having fine, thin hair. These cropped hairstyles and collarbone bob haircuts are way too beneficial for the hair lacking body and texture.
An adorable look with short bob can be created with cheap styling products and easy styling techniques. For a seasonal update, make it wavy or messy, pay attention to dimension and texture, ask your stylist for the necessary highlights and lowlights. Short hairstyles a awesom look
You will never meet a bad-hair day again by following some super easy Short Bob Haircuts listed above. click here for more short bob hair