The Long Bob Hairstyles have been making everyone astonished since they were invented. The long Bob aka lobs are the selection of girls who want to break their categorized look dilemmas.
Since long hairstyles bobs are gorgeous either you keep them subtle, layered haircuts or wavy. It is the best option that suits all kinds of face cut, age, and complexion. However, you need to ask the stylist for the correct style for you.
Whereas the main reason to opt for lobs is that they show a healthy denser image of tresses. While the right choice to interpret one's facial beauty.
As selecting the right style according to your preference can be somewhat puzzling; so here are 16 great picture demonstrations for long Lobs.
15 Sizzling Long Bob Haircuts to Make You Look More Gorgeous
Essentially the Long Bob Haircuts open a wide variety of styling choices that are trendy and modern. Same as they bring the best image of your face, and also modify your whole personality impression.
Moreover, the fashion of bob with colors, accessory, and styling techniques will always be your style statement. For sure, you would never regret after getting lobs because they are very adaptable and contented whereas take minimum time to be in style.
These high-end trendy long hairstyles are the idea to make you unique and charming. So, I wish that these 16 modish Long Bob Hairstyles would surely make your style revolution easy and fruitful!
Happy reading!
1.      Basic Bangs with Elongated Bob:
The messy bangs along with Long Bob Hairstyles are sharp and showy. The bold lob with forehead fringes are too hot plus add more volume to your hair.
The bangs should be chopped in an asymmetrical way to demonstrate a nonchalant model. Same as perfectly aligned fringes make the haircut more manageable.
Though this Long Bob Haircut looks messy and untidy, yet you can make it formal with fewer clever tricks. For this reason, use a dry shampoo near the roots to remove excess oil and shuffle those bangs with a light hand.
By doing this essential step you would smoothen up the messy bangs in a right order. After that, simply pair up some sparkling hair accessory.
Do you know about Jasmine hair oil
2.      Delightful Multiple Layers:
Making layers your first priority is an excellent plan for Long Bob Hairstyles. The layers display full features of lobs and hair texture. Whereas if multiple layers are added, then lobs can become elegant as well.
So the multiple layers are pleasing for every kind of face cut. No doubt, if some trendy hair colors or highlights are blended, then it will make your look entirely admiring.
Layered lobs have an ability to draw everyone's attention in a manner that would make you popular. Hence, Long Bob Haircuts with Layers are essentially classic and give a decent hint of sexiness.
3.      Captivating Caramel Balayage:
You can never get rid of the seducing power of Caramel Balayage!
Get the sassy caramel Balayage done with the help of your hairstylist. The caramel shade in Balayage is becoming more famous day by day because it gives more of a natural look.
Recently, the way Balayage has gotten popular in the fashion industry, there is a chance of more advancement of this technique.
The caramel color shows a blonde image while Balayage subtle it with its strokes. The Balayage uses a free-hand coloring technique that omits a fake dyed look and adds a nice smooth color.
For this reason, you can select the best shades of caramel in your believed hair dyeing product that suits your choice and personality.
4.      Ponytail with Banana Clip:
Make a ponytail with a new idea via a banana clip. This idea is especially for Long Bob Hairstyles as they have the perfect texture and cut that banana clip will easily make a wonderful style.
Use a flat comb and make a regular ponytail, then just secure it with a banana clip and bring some fringes out from the sides to make a sassy look.
5.      Choppy Angled Bob:
The happiest part of having angled straight bob is that they are simply amazing. Yes, it is true that angled cut doesn't require a lot of styling. It is already styled subtly and smoothly. The edges would bring a bolder image while the straight lob would make you adorable in all senses.
Happily, it is of the most famous Long Bob Hairstyles that is acquired by many celebrities and models. You can side swept them with the help of a flat comb or use sparkling Bobby pins to embrace more charm.
However, for styling purpose only a straightener and some styling gel would go your way better.
6.      Honey Blonde Bob:
The one shade that fascinates all light colors is Barbie honey blond. While blending it with the Long Bob Hairstyles is a wonderful choice. The fact is that it is the easiest way to dye lobs in blonde shade, because of the perfect cut that can accompany color more easily.
Though the blonde color would bring that spark and radiance making you most sensual. If you are dark headed, you must need to go for cutting down the natural hair shade. Then the honey blonde color would work well.
This soft touching shade can be styled in various ways like you can try beautiful waterfall braids and side twists.
7.      Round Long Bob Hairstyles:
This cute round bob cut will introduce you to a ballerina series for sure. The round bob goes best with Bob Hairstyles for Fine Hair. You can go very natural and subtle with the adorable haircut.
Round Bobs show a silky look that holds the face like a beautiful cloth. It covers and contours the facial features in a calm way.
So, to achieve the best look with round Long Bob Hairstyles pair your dress with a big pendant and of course red Rubi lip color.
8.      Smooth Layered Bob:
Well said Make it simple but significant!
Long Bobs with Layers is a chief idea to embrace simplicity with style. The layers in bob will concentrate on the hair texture well while putting extra volume in it.
Shiny and glowing layers with Long Bob Hairstyles will show an innovative side of your beauty and charisma. Moreover, the silky layers have something divine in them that makes your whole aura mesmerizing.
9.      Exotic Wavy Bob Hairstyle: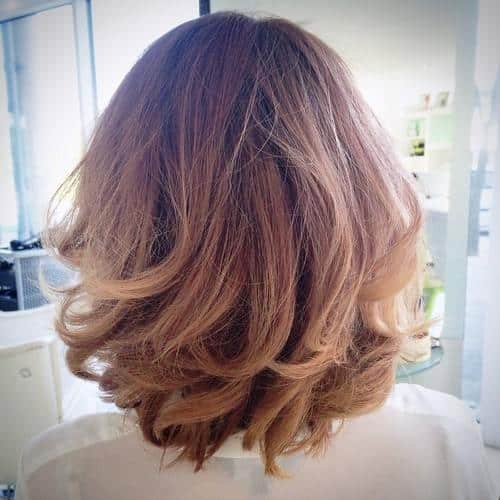 The most romantic Beachy waves are sexier than any other style. And if waves are added to the mocha Balayage hair, it will be very fascinating for everyone.
These new summer wavy Long Bob Hairstyles already welcome the warm look. This trendy style is way too classy with every kind of hair texture, while it requires little maintenance.
Additionally, it looks too elite that you can get this hairstyle with little money. It would need curling rod, hair serum, and mousse. Then, with the aid of curler, try to make loose curls; after that tousle these curls while having a few drops of mousse in your palm.
10.  Burgundy Long Bob Haircuts:
Try out the brunette burgundy shade mingled with Long Bob Hairstyles and you would love your hair. The dark reddish purple emphasizes on self-assured and bolder look.
Long with burgundy color is the right way to hold the confidence. Hence this style is for ladies who want to portray feminity in a stronger way.
Whereas the burgundy color has the power to make thin tresses look thicker and tender. Flair this hairstyle like the way you want because all you need do is;
Don't try to follow the trends just create them!
11.  Long Bob with Curls:
The long bob with flawless curls captivates the liveliness and adds more spice to average looking Long Bob Hairstyles.
Moreover, using curls as a style can accumulate more of the bubbly model of the tresses. Whereas, if your hair is colored in browner or blonder shade it is more awesome. With these curls, you can also try little messy buns.
Emphasizing more on curls, I suggest you try this style without a curling iron. For this, you can try this style at home by using hair rollers and some hair setting spray.
And the best part behind roller is after locking this style will stay longer than the style you do with a curling iron.
12.   Side Braids and Twists:
For styling Long Bob Hairstyles, one can try side twists and pretty side braids like a princess. As the side braids need a little practice, you can follow these steps:
Simply side part your hair, then starting from the center, make a small braid going right towards your earlobe.
Side by side incorporate more hair to give that French braid style.
Then just lock it with a rubber band, and fix this braid on the backside with the help of the Bobby Pins.
Follow same steps for twists, instead of making braids bend your tresses into twists.
13.  Perfect Arch in Mocha Brown:
The mysterious mocha brown dyed lobs are very classy and marvelous. If you are dark headed, it would be very convenient for you to transform into brown mocha. The aligned arch is too classical to show the versatility of your tresses.
Sometimes the mocha brown shows a natural shade. This monochrome technique would surely be your way if you condition your hair regularly.
Ask the hair stylist to make the arch more choppy and trimmed both ways. Hence, you would require to maintain this arch routinely to last long this hairstyle. Such kind of alluring Long Bob Hairstyles can be perfect for a working lady.
14.  Striking Rose Gold Highlights:
The fresh look that would make you look like a princess, is only represented by rose gold highlights. Like the roses are beautiful and make the evening very refreshing, in the same way, the rose gold highlights in Long Bob Hairstyles would revitalize its aura.
Although selecting this charming shade can be tricky, but with the help of your stylist, you can readily get this color. Allure your way with some more beauty and add a more prominent red highlight in it. As
Charm is more than beauty!
15.  Matchless Long Platinum Hair:
A woman with class is timeless!
Because a classy woman has the courage to think out of the ordinary. Getting the platinum hair is itself confusing because it is very different from normal colors and dyes. The metallic platinum dye would infuse a daring look that you need to carry it with your sheer confidence.
Fashion this unique style as you need according to the event, even a tiara or pearl headbands would perfectly match the platinum hair.
16.  Cute Half Knot Pony and Bun:(Bonus)
Entering this era, the fashion world came across some new styles and cuts. In this manner, the half knotted pony and buns became very popular among youngsters.
The half knot pony looks very interesting for Long Bob Hairstyles and your wide spectacle will surely form a decent look.
For making half pony, simply section part your Long Bob Hairstyles and tie it with a pony band. After that, use the style freezing spray from 12 inches away.
Furthermore, for bun, you can twist the same pony and lock it with the Bobby pins.
Conclusion:
The catalog of Long Bob Hairstyles has a glimpse of every high-end trendy haircut. The angled, layered and bangs in Long Bobs bring out the real beauty whereas the hairstyles that are mentioned would help you out in styling and dressing rightly.
Furthermore, the basic angled cut shows a perfect image of Long bobs same as layers have multiple scopes and are flexible.
Long Bob Hairstyles Hence, In order to attain the perfect look with anyone of these Long Bob Haircuts, one must seek the professional help and go to the salon, while choosing the right cut according to the face shape and personality.you can find more hair care tips
However it is true that;
The fashion fades, but style remains!