Short to Medium Hairstyles are way classier and appealing as you can style them in the very little amount of time.
Though, it is true that beauty is not anyone's possession all the time. But every woman adores being beautiful and charming. For this reason, Short to Medium Hairstyles would do wonders for you.
While in these hectic days when you don't even have time to have breakfast in the morning, managing long hair can be very bothering.
Meagan Good says: The beauty of having short hair is that I can actually wash and style it at home!
Why choose the Short to Medium Hairstyles?
While you decide to chop your tresses into short or medium cut you are already breaking stereotypes cliché.  But to be honest, this decision will be best for you because:
Short to Medium Hairstyles hardly need any styling technique, already in style the way they are.
You can save all expensive hair products because of less usage on these small tresses.
Hair dyeing would not be an issue for Short to Medium Hairstyles.
They are simple and on the go for many events.
Short hair is bold and entirely unique as compared to others.
So, enjoy reading some flawless ideas about Hairstyles for Short Hair and Medium Haircuts for Girls given just down below.
17 Perfect Short to Medium Hairstyles – Look More Fabulous Now
1.    Short Bob Haircuts:
Bob Haircuts are king of the all short hairstyles. Small Bob Haircut tends to show a playful image while enhancing the elegance.
Though bob haircuts are short, yet they highlight the facial beauty very well. The edges of its ends glorify the jawline naturally like a silky cloth.
However, there is some dyeing solution for bob haircuts to go sophisticated. Brown- Brunette shades and blond colors tend to look overwhelming for sure.
Whereas, Balayage or Ombre can also be an option for those who desire something new and innovative with their hair.
2.    Youthful Layers in Honey-Caramel: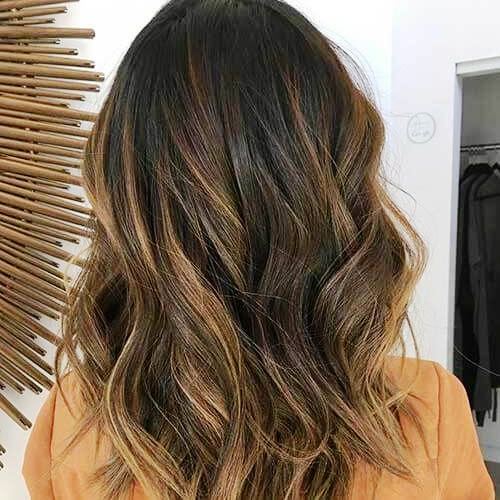 Looking good gives you confidence!
Beautifully cut short layers induce the real charm of the hair, whereas honey-caramel shades awake that sensual appeal. The best way to carry these layers is to keep them simple as they are with the help of combing.
By keeping these layers short and youthful, you can create a comfy style. While mixing the lighter shades like honey-caramel would be a great option in this matter.
Simply, shuffle some mousse to give a better texture. While adding best dry shampoo would bring out the original shine of this finest style.
3.    Perfect Angled Short Cut:
Basically, the Short to Medium Hairstyles demand a comfort zone for the beholders. While adding more ideas into this pool, angled shortcuts are going favorite these days.
Essentially the angled shape of the medium hair is best for thin hair. As this haircut conquers that flat look and forwards the hair volume into glam. You can try some volumizing hair serums to get rid of the skinny picture of your hair.
Whereas, angled cut offers a sharp, edgy feel which shows a confident persona around the party. Surely this cut would go awesome with black-brunette Ombre though, makes styling easy for you.
4.    Wavy V-shaped Chin Length Hair:
The V-shaped chin length hair is one of the supreme ideas from the list of Short to Medium Hairstyles. Because this cut can go well with almost every facial figure and texture of tresses.
Whereas portraying an exotic look the ideal benefit of V-shaped medium hair is that it shows the full density of hair. Yet slightly wavy hair shows a womanly image that is an appeal by everyone.
For this cause simply use the blow drying technique with round brush. Prior to that smear heat protectant, then apply the hairspray that will secure your hairstyle for your event. After that, flair with confidence everywhere and become show-stopper of the night.
5.    Face Framing Cut in Medium Length:
Truly said that: Elegance is the beauty that never fades!
The face framing Short to medium Hairstyles are a sheer beauty with elegance. Their appealing aura embraces the grace and shows the real texture of your hair.
Literally, the layers following one other are so cute that you would fall in love with yourself again and again. These perfectly aligned round layers are an example of the style and uttermost beauty.
Interestingly, you can style this medium face framings in no time, just dry your shampooed hair and comb, then use the serum and shuffle them.
6.    Medium Bob with Ginger Highlights:
This is an entirely unique idea of Short to Medium Hairstyles for young girls who want to rock the bash. Medium bobs are adorable in a way that shows interesting style with great exclusivity.
Whereas dyeing them into ginger highlights would be more slaying. With the great benefit of short to medium hairstyle, this cut is quite handy and way handier as it requires no styling at times.
Yet you can wear this cut with minimal makeup and big earrings, while for formal events use tiara or pearl headbands to show more loveliness.
7.    Shoulder Length Tussled Hair:
The tousled hair shows a nonchalant but trendy image. Brilliantly shuffled hair is in these days for formal and semi-formal events. The best part; this style enhances one's prettiness with any kind of outfit.
Whereas this is one of the short hairstyles for fine hair too because it's volume enhancing nature. Despite the fact that it adds volume without bothering hair texture as such. Besides all medium shoulder length haircuts, this style incorporates well.
Essentially all you need to do is little styling for adding that Apple polish looks to your personality.
8.    Short to Medium Hairstyles with Blonde Bangs:
The blond bangs are lighter in shade, but heavenly illuminating. This never going old color always makes us believe in sheer beauty.
Either platinum blazed, fawn or chestnut color; choose according to your mood and personality. Because the Short to Medium Hairstyles with Blonde Bangs would always be gorgeous.
Factually the blond hair looks messy and shaggy because of cutting down of natural hair color. So chopping it into medium length bangs is far better than leaving it long.
The amazing selection can also be titanium highlights for this cut because it will enhance the uniqueness and classical flaxen beauty.
9.    Dynamic Curly Medium Length:
Curls have been very popular among girls just because of their lively look. Hence Medium length is ideal for dynamic sassy curls as the shoulder length occupies waves more readily.
So, for this reason, you would require to curl tresses by curling iron, then layer by layer curl them. After that, use mousse and now you can say,
Curly Hair-Don't Care!
10. Joyful Short Bowl Cut:
The other word for comfort is bowl haircut. For this reason, rush to the best salon nearby or search for a good hairstylist around your location to get this cut.
Would you believe?
That the bowl cut embraces the face in the most adorable manner. And if you acquire darker shades then it will definitely revolutionize the whole look.
Even,
The hollow shaped Short Medium Hairstyles gather extra attention by way of their exclusivity. So instantly try this cut out whenever it is convenient for you.
11. Brunette Bed Headed Layers:
The perfect brown shades in bold and sexy bed-headed layers are just the right combination. Either you prefer the brunette color to be in medium or short length it will look gorgeous both ways.
The most shattering brown color promotes the real style with that enthusiasm because brown colors display more natural persona.
Though the bed-headed style creates an illusion of volume near your head's crown area. Hence displays a bolder badass icon. And you can,
Show it with style!
12. Feather Cut with Flickers:
The freely flying and flattering feather cut is always on the list of the most sensual ones. It has been the best haircut for ages while recently it has gained great popularity among young girls.
Though everyone adores the medium length feather with flicker ends because it is manageable and requires low maintenance. Additionally, the feather cut helps a thin, elongated face to look a bit rounder. For this reason the feathered Short to Medium Hairstyles castes the face shape in the sexiest way.
Just give deep conditioning, then dry perfectly with the help of blow dryer and using a round brush towards the actual length. Then spray the hairstyle freezing spray and you can live happily ever after.
13. Amber Color in Wavy Lob:
Amber shade brings that excitement to the hair and defines the hair texture as well. It is somewhat confusing for opting amber shades for renewing the look. Because amber shades have an illuminating spark that grabs everyone's attention all of a sudden.
But the fact is,
Amber shades are the sexiest dyes for Short to Medium Hairstyles, and the fashion world absolutely loves it these days.
Meanwhile, the wavy lob haircut is the topmost wonderful idea for Hairstyles for Short Hair. As per it disguises the actual hair length of short hair by giving a look like a long feminine haircut.
14. Ombre with Medium Bangs:
It is right that; Ombre makes the life more beautiful!
Day by day the Ombre inspires everyone cheerfully. All women are opting for these transitional dyes because they want to glow and become prominent.
The Ombre technique tends to show the most exotic yet trendy look and has versatile shade options. The point to be noted that Ombre technique works best for the damage ends and aids the rough ends.
The fact is;
Ombre coloring is a solution for rough ends because perfectly done Ombre tends to make the tips glowing and denser.
While preferring Ombre for Short to Medium Hairstyles is way classier than any other haircut. So, groom your natural tresses into medium or short Ombre hair and become a beauty icon.
15. Ginger Sombre in Layers:
Ginger Sombre color presents the drastic change in your personality, while in medium layers they are a correct pair. Though layered Short to Medium Hairstyles needs special care and courtesy as they are petite. So, by coloring those into ginger Sombre brightens up their image.
Ginger color with light undertone is perfectly good for Sombre technique. While professional says, "if you're uninterested in Ombre, use Sombre because it is dimmer and more natural looking."
Meanwhile, you can rock around using short-medium layers with this exciting mahogany shade.
16. Soft Layers in Outward Style:
Soft layers in outward style are too classy and known to be heroin style. With having outward layers in Short to Medium Hairstyles the main key is the look of the hair texture.
For this cause, you need to use hair mousse with blow dry and comb. Slightly comb with blow drying your tresses, then just follow this step for all layers.
Tip: For further making this hairstyle last long, spray the styling locking spray onto your hair.
17. Attractive Gold Highlights:
Color is the power which directly influences the soul!
Perfectly believed that the color casts a dynamic aura in any picture. Like that hair also needs fantastic coloring techniques to promote its looks and model.
Gold highlights are entirely gorgeous for ladies with thick medium tresses. Hence, rose gold highlights would be an attractive possession of Short to Medium Hairstyles.
Conclusion:
You've got a beauty that is all yours! 
Finally, all these mentioned Short to Medium Hairstyles would be helping you to the greatest extent. Choose either side swept, feather, wavy or layers according to your preference for style.
All these hairstyles are perfectly chosen for you with pictures to benefit you in the best possible way during your fashion emergency.
However, chopping hair into short or medium length can be life-changing for anyone. But sometimes it is also necessary to add some excitement to the old hairstyle.
Therefore, go ahead with all your fashion choices and desires by Short to Medium Hairstyles and glow elegantly in the party. you can watch more short to medium hairstyle