Prom Hairstyles for Short Hair
Prom Hairstyles for Short Hair No doubt short hair is easily managed and looks amazing at the same time. But what if you are looking for Prom Hairstyles for Short Hair? When many of you want to look sexy and get a glamorous look, is short hair your hurdle? Not anymore!
In today's day, you can easily come up with millions and millions of Short Hairstyles just like you do for long hair. The most important part is to decide your outfit first. Then make sure to style your short tresses according to your dress.
The color and style of your dress play an important role in deciding whether or not to go for certain hairstyles.
Furthermore, it is also important to keep track of how often you see your stylist for a nice trim. Your hair dye counts too. But nothing to worry so much about!
I promise to set up all perfectly; perfect style with perfect hue according to your looks!
19 Glamorous Prom Hairstyles for Short Hair to Get a Refreshing Look
Usually, you see women with short hair; wear a crop or a bob for proms. But you can add a unique statement-making look by going for an updo. It seems hard to believe, but, yes! You can taste the fun of updo's with short hair too!
For Prom Hairstyles for Short Hair, nothing is more important than the length and cutting off your hair. So beware of what you choose for yourself.
Moreover, for further help, I am here with a lot of pretty hairstyles for a perfect prom. So what are you waiting for? Let the adventure begin!
1.      Twisted Loose Updo – Prom Hairstyles for Short Hair:
Prom Hairstyles for Short Hair like these is the best for a relaxed look. Twist the hair starting from the side and back till the end.
Moreover, for short hair, it is also advantageous that you don't need to worry about tucking the tail. Simply pin it at the end and enjoy your new ravishing hairstyle!
2.      Simple Bun with Side Tresses:
Looking for a "zero hard work" look? This is it! It requires less time and is perfect for those who don't have a set hand on styling.
If you have equally trimmed short hair, then brush it back to tie in a simple low bun. Take out some side tresses and subtly wave it.
This simple yet elegant look can also work with side fringes. Just like the beautiful Rose Byrne adopted it.
3.      The Faux Updo:
This is one of the most amazing Prom Hairstyles for Pixie Cuts. It works best on pixie cuts with Long Hair in the front.
Tease your hair from the front and sides and hold their ends with the help of Bobby pins. Make sure to not pin-up tightly with the scalp. You need to maintain the volume. If your hair is not naturally wavy, then use a mini iron rod to curl subtly.
Moreover, use a fine hairspray for better hold. Try going with a strawberry-blond hue.
4.      Bouffant Updo for a Bob: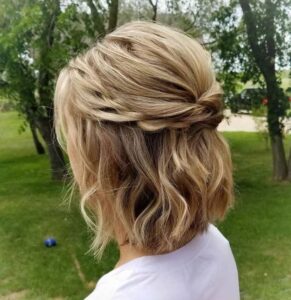 Usually, Prom Hairstyles for Short Hair is either pulled up in a low updo or a half updo. However, this hairstyle fashions a messy loose updo for extremely short hair.
All it takes is to backcomb your hair and pull up a bouffant first and then twist and pin up tresses of hair from either side.
5.      French Braid for Asymmetric Bob:
It is not at all mandatory for a Prom Hairstyle for Short Hair to look extremely formal unless and until it gives a polished look. This hairstyle has the same case. It is a simple yet glamorous hairstyle.
It goes with side parting your hair. Then start tying a loose French braid, going all the way till the end. Leave the remaining hair to wave down.
Make sure that the front is slightly puffy. Also, loosen up the loops of the braid. On one side, pull out a strand of hair and curl it. This helps in providing your hairstyle a soft look.
6.      Low Chignon with Bangs:
Are you looking for Easy Prom Hairstyles for Short Hair? Then you are surely in the right place. This easy hairstyle goes by tying a low chignon at the back.
The enhancer in this look is the bangs that are swept to the side. It works best on oval faces. This classic look was adopted by the pretty youngster Emma Watson, which she carried gracefully.
7.      Macramé Braided Half Mohawk:
If you think that Prom Hairstyles for Short Hair requires being all "princess-like", then maybe you are wrong. This prom hairstyle gives you "rocker style" vibes.
Tie up a side macrame braid and pin it up with the help of bobby pins. Set the rest of the hair with the help of a fine hairspray in a mohawk look.
This hairstyle beautifully comprises both; a braid and a mohawk. Moreover, for a nice fresh prom look, go with a gradient blond hue with dark roots.
8.      Side-Braided Style:
This hairstyle is the perfect description of a "prom chic"! This hairstyle is fashioned with one side as cornrow braids while the other as a tousled cut.
It works best with ash-blond hue. Prom Hairstyles for Short Hair like these is the best way to get a ruffled look. It looks all rough and the bulge at the crown further makes it shine.
9.      Long Pixie Prom Style:
This hairstyle is the one of the best Prom Hairstyles for Short Black Hair. This hairstyle gives an extremely classic look.
Its' front fringes are fashioned with a wispy look which highlights your facial features. Make sure to add a lot of volume at the crown of the head. This also influences greatly for adding an accessory which is the most important and beautiful part of this hairstyle.
10. French Braids to Messy Bun:
This hairstyle is the perfect messy look for Prom Hairstyles for Short Hair. It goes with tying up multiple rows of French braids which ends with a messy twisted bun at the nape of the neck.
The beautiful part of this style is the combo of two blond shades. The color is optional, but for a prettier look, try going with dark roots which gives the braids a more prominent look.
The most outstanding part of this hairstyle is the braids, so make sure to keep a smooth hand when tying them. As Roman Payne in his popular book, Rooftop Soliloquy quoted:
"A girl without braids is like a city without bridges."
11. Soft Upstyled Curls:
If you look back a decade ago, heavy crispy curls were said to be a great prom look. But today, the softer the curls, the prettier they look!
In this style, all you need to do is subtly give nice curls to your short locks. Make sure to not make it crispy and maintain the softness.  Pin your soft curls up and set with a hairspray. So, go right away for this easy peasy look!
12. Curled Hair with Crown Braid:
Looking for Prom Hairstyles for Short Hair Half Up Half Down? These hairstyles are for sure easy to maintain and quickly made.
So if you are going for this cute prom hairstyle, simply tie a crown braid with numerous loops. Let the remaining short hair flow down. You can also beautify it by subtle curls or waves. Moreover, go for golden blond highlights for a glamorous prom look!
13. Sweet Side Braid:
Prom Hairstyles for Short Hair with braids work wonders on your hair. With the help of a good stylist, the JBraidsandBows would give a brilliant separated look between your hair.
Moreover, this style would suit best if you are blessed with naturally wavy hair. If not, make sure to artificially wave them slightly with the help of a mini iron rod.
14. Twisted Rows Updo:
This kind of Prom Hairstyles for Short Hair is usually adopted by black women. But if you are a blond, you can also opt for this nice hairstyle.
It is a simple look that comprises rows of braids which are tied up low at the nape of the neck. Letting the braids fall down is also optional.
Another option is to flatly twist each row till the end. This hairstyle is beneficial in giving you a sleek look if you are not a fond of bulky hairstyles.
15. Roll and Twist Updo:
Prom Hairstyles for Short Hair should not necessarily contain curls or braids for an extraordinary look. Now, with the right tactics, you can easily give yourself a statement-making hairstyle with simple twists and rolls!
All you need to do is simply start twisting your hair from the side, all the way to the back and pin it up. Then take a tress from the remaining hair at the back, roll it and pin-up.
Follow suit for the remaining open hair. Then decorate the rolls with pearl pins or some other accessory for a classy beautiful look.
16. French Roll for Weddings:
This classy and popular French roll not only works on long hair but also go nicely with short hair. This hairstyle gives a soft look with its loose twist. It is also extremely simple as all it takes is a simple twist and tuck in!
Also, if you are looking for perfect Formal Short Hairstyles for Weddings, then go for this look without a second thought! Moreover, for a classier look make sure to add a flower as if randomly tucked in at the twisted end.
17. Short Platinum Undercut Hairstyle for Short Hair:
If you think that undercut hair looks cannot be transformed into Prom Hairstyles for Short Hair, then this hairstyle will surely prove you wrong!
Separate the Long Bangs at the front. Then tie up a loose and thick braid and pin it at the side, just a few inches above the undercut. So, in this way, this hairstyle comprises of "three styles in one look" (long, braided and short)
Moreover, get an eye-opening look by adding a platinum blond hue!
18. Disheveled Prom Do:
This hairstyle is sure to give you a jaw-dropping look! It is beautifully styled with a braid working as a headband, whereas the Short Bangs side sweeping on the forehead.
Now, the most fascinating part in this hairstyle is the back tousled look. Create an extremely great amount of volume at the crown of your head. Also, go for a copper red hue, which is sure to give you a catchy look!
19. Short Bob for Prom:

Prom Hairstyles for Short Hair like these is simple yet sophisticated. This jaw-length bob
is very easy and beneficial if you are wondering for a style at home.
Simply, tie a rope braid ending at the back and pin it up. Then neatly straighten your hair. Make sure to keep your hair jet black for a sleek look.
20. Easy Half Updo for Lobs: ( Bonus)
Looking for something less fancy and more classic? Then make sure that this hairstyle is your priority for the next prom!
Just gather up the front hair and pin it up at the middle. Make sure to add a beautiful hair clip for a formal look. The curled-in Short bob would play beautifully with an auburn hue.
Conclusion:
These Prom Hairstyles for Short Hair are sure to add a glamorous touch to your beauty.
"A lady's hair is her crowning glory." –Jeannette Walls.
Short hair is extremely easy to maintain in your daily life. Just as the same, it is also convenient for occasions or proms. With the help of a good hair stylist, and by following the above-mentioned styles, you can easily look great with short hair.
So, don't allow your short hair to let you down! As in today's modern era, there are a lot of advantages for all kinds and sizes of hair.